Since its launch in 2016, the Echo Dot has been the most affordable smart speaker Amazon makes. That's now changed with the arrival of the Echo Pop, which will be available for just $39.99 / £44.99 when it goes on sale on 31 May. It's cheaper than the latest Echo Dot that Amazon sells.
Aside from the price, the design is the most interesting thing about the Pop. It essentially looks like an Echo Dot cut in half, with the semi-spherical form factor making it take up significantly less space.
Instead of outputting 360° audio, the Echo Pop's speaker occupies almost the entire front of the device. Amazon says you can expect "full sound," but only recommends it for small spaces like a bedroom or dorm.
The blue indicator (which appears when you say the wake word) is just above that main speaker, although the full ring of light extends around its edge. It is available in four finishes, called Charcoal, Glacier White, Lavender Bloom and Midnight Teal.
You can also add an extra pop of color with an Echo Pop case, allowing you to customize the look of the device even further. The grey, lilac, purple and glow in the dark options all cost an extra £19.99 in the UK.
The Echo Pop has the same Amazon AZ2 processor as the latest Echo Dot, while also being able to be used as a Matter controller for smart home tech or a Wi-Fi extender for the Eero mesh network. You do miss a temperature sensor and there is no possibility for a clock display.
Echo show 5
Amazon's smallest smart display has also been refreshed, in both regular ($89.99 / £89.99) and Kids ($99.99 / £99.99) models.
The first includes new speakers that Amazon says offer both clearer sound and last-generation double bass. You also get the AZ2 processor, plus improved microphones.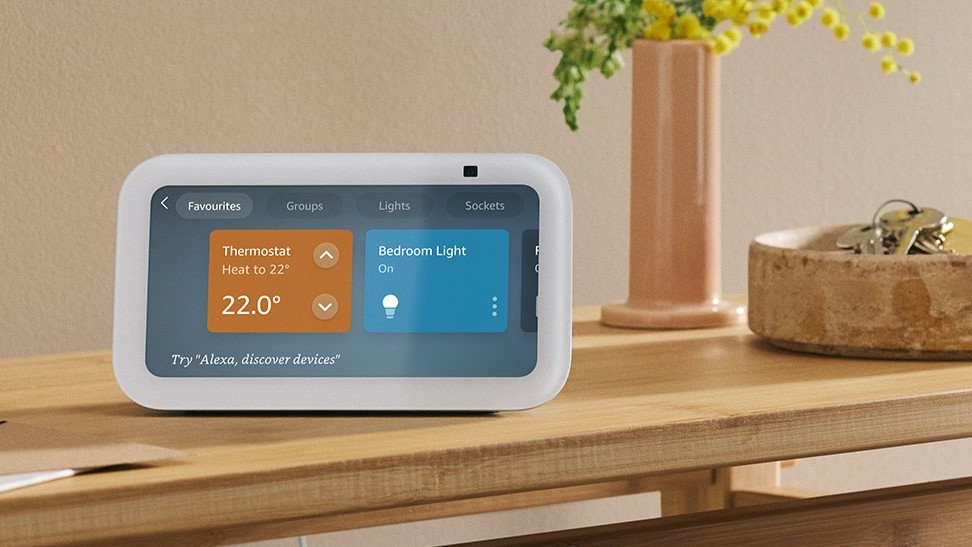 Amazon
It can be combined with a new adjustable stand, which also adds a USB-C port. This makes it an ideal bedside candidate, especially since the camera has a physical shutter.
There are three colors to choose from: black, white and blue. The Kids version is only available in a space-themed "Galaxy" finish, but includes a two-year warranty and a one-year Amazon Kids Plus subscription.
Elsewhere, a new version of the Echo Buds has also launched, complete with a radical new design and a much more affordable price – $49.99. There's no more active noise canceling or even earbuds, and Amazon opts for a semi-open design instead.
Related articles