At a glance
Expert's Rating
Pros
Excellent performance
Gorgeous design and solid build
Dazzling display gets brighter
Cons
FaceTime camera could be better
Space Black is only on M3 Pro and Max models
Our Verdict
This is a laptop that gets it all right, from the design, ports, and display to the power of the chip inside and the battery life. There's something very satisfying when using a great tool, and that's the feeling you get when using a MacBook Pro.
Price When Reviewed
From $2,499 | Model reviewed $3,999
Best Prices Today: Apple 16-inch MacBook Pro (late 2023)
$2,485.98
$2499
$2714
$2899
$2899
Judging by its Q4 (FY23) figures, Mac sales are not where Apple would like them to be. You'd think that with the success of the M-series chip rollout, MacBooks would be flying off the shelves, but they're not.
There are a lot of reasons why people aren't buying, but the product and the technology behind the latest Macs are not the problem. The M-series MacBook Pro rollout has been successful from an execution standpoint, but there still are lots of people using Intel-based MacBooks. Apple makes high-quality products that simply last a long time, and it's easy to hold on to an older MacBook just a little while longer.
Apple has now released the M3 series of chips, which are featured in the MacBook Pro. It's the third generation of the chip and the redesigned laptop, and with this release, Apple is hoping the third time is the charm that will persuade customers to invest in a new MacBook.
With this laptop, they just might. The new Space Black finish is alluring, the brighter display is eye-opening, and the performance is very satisfying. It all combines to make a charming MacBook Pro that is so very hard to resist.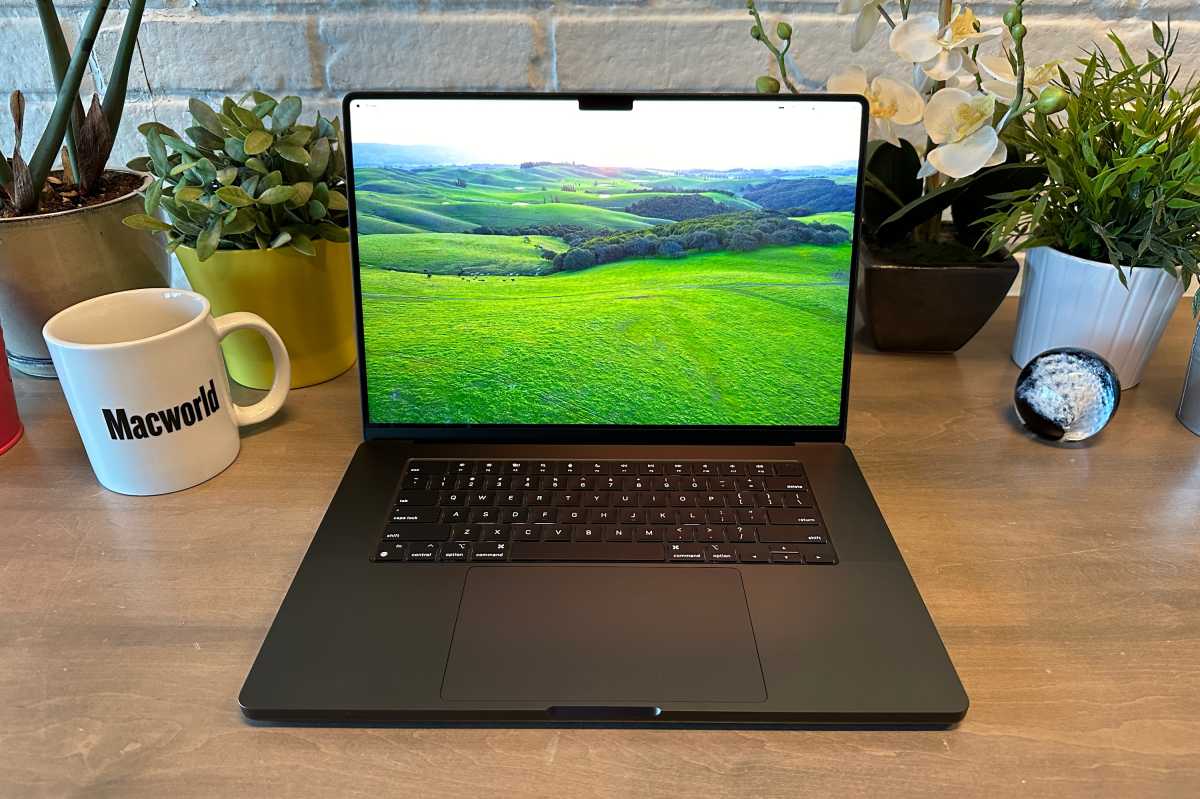 Foundry
Performance
Significant general improvement over the M2 Max
Graphics boost with GPU-dependent apps
Except for a couple of other features (see the "Design and build" and "Display and speakers" sections below), this MacBook Pro update is all about the M3. Our benchmarks look at the M3 Max's performance and how it compares to other older Macs.
After a couple of generations of M-series chips, Apple has proven that a chip's performance is mostly consistent regardless of the form. For example, an M2's general performance is the same whether it's in a desktop Mac mini or a laptop MacBook Pro. So the charts below focus on comparing the results against other chips instead of other Macs. (The specific model is called out in certain instances, especially in graphics-oriented tests where throttling can occur.)
Geekbench 6 is an indicator of general, overall performance. In its Multi-Core tests, the M3 Max MacBook Pro posted a significant 43 percent improvement over the M2 Max it replaces. That's more than the typical 15 to 20 percent boost we've seen from generation to generation, though the M3 Max does have more two CPU cores (and two more performance cores) than the M2 Max. In Single-Core tests, the M3 Max showed a more modest 11 percent boost.
The M2 Ultra's Multi-Core performance keeps up with the M3 Max, but the Ultra is not available in a laptop, it's only in the Mac Studio and Mac Pro. But it's a good point of reference and maybe even a preview of what to expect from the M3 Ultra.
The Intel-based laptop in the chart is Apple's fastest (and last) Core i9 MacBook Pro, released in 2019. It gets completely blasted by the M3 Max MacBook Pro. If you're still using this or an older Intel laptop, imagine how much more productive you can be if you upgrade.
Cinebench 2024 benchmarks+
The results in the chart (and all the benchmarks in this review) were performed on the M3 Max MacBook Pro in High Power Mode, a setting available only on the 14- and 16-inch MacBook Pros with Max-level chips. This mode makes the cooling fans run faster so the chip can use more power to get top performance. High Power Mode is activated in the Battery System Setting and can be used while the power adapter is not plugged in.
High Power Mode does make a difference, but our testing in Cinebench 2024 showed only small gains. Our scores were 2-3 percent faster in High Power Mode than at the default Automatic setting where macOS balances power consumption and performance. The lack of significant difference is due to the benchmark tool simply not being strenuous enough and not a fault of the Mac.
The older Cinebench R23 benchmark isolates CPU performance and not the GPU. Here we see a whopping 62 percent increase in the MacBook Pro's M3 Max over the M2 Max in a Mac Studio. The benefit of more CPU performance cores is shown here.
HandBrake 1.6 video encode
We used HandBrake to encode the Tears of Steel video from 4K to a 1080p H.265 file. When doing the encoding completely in software using the H.265 (x265) video encoder, the M3 Max displays a significant 33 percent speed improvement over the M2 Max. With HandBrake's H.265 (VideoToolBox) encoder, the app takes advantage of available hardware acceleration, so here the M3 Max had a 33 percent improvement.
iMovie 4K video benchmarks
In our iMovie 4K video benchmark, we exported a 10-minute 4K video at two settings. Our testing found that the M3 Max MacBook Pro had a very small improvement over the M2 Max in the Mac Studio. This test uses the video encoders on the chips, but the bottleneck is the SSD, which explains why the results are so similar.
The write speeds between the Max chips new and old are relatively the same, but the read speed of our MacBook Pro was about 10 percent slower than the rest of the field, even while testing in High Power Mode. It's a curious result, but you probably won't notice the difference in real life, unless you're working with gigantic files.
Geekbench 6 Compute benchmarks
Geekbench's Compute benchmark tests GPU performance using Metal or OpenCL APIs. In both of these tests, the M3 Max and its 40-core GPU were 7 percent faster than the M2 Max and its 38-core GPU. The boost is more significant between the M3 Max and the M1 Max's 32-core GPU, where the M3 Max was 29 percent faster with both Metal and OpenCL.
Rise of the Tomb Raider and Civilization VI are older games written for Intel and not optimized for Apple's Metal graphics API. Still, the M3 Max (as well as the new macOS Sonoma Game Mode) helps improve performance. However, the MacBook Pro's cooling fans kicked in and were very active during these benchmarks, which meant that the performance was likely throttled to maintain a proper operating temperature. The M2 Max in Mac Studio has a very big thermal system to keep it cool.
Design and build
New Space Black colour for M3 Pro and Max models
Same attractive design and aluminium case as its predecessor
16-inch model is large and hefty
I'm about to take a deep dive into the MacBook Pro's colour, which may seem like a trivial pursuit to a lot of people, but Apple and its customers know that colour choices play a huge role in creating a premium product. Apple does an excellent job with its colours and finishes and the excellence continues with Space Black, a new choice for the MacBook Pro.
Foundry
Space Black isn't really black; it's a deep, dark grey. If you're familiar with hexadecimal colours, then Space Black is a close match for hex #414a4c, which is often referred to as Outer Space. Space Black does appear lighter when a direct light is upon it and in photos. It's much darker than Space Grey, which is no longer available for the M3 Pro or M3 Max MacBook Pro. Your choices here are Silver or Space Black.
When Apple unveiled Space Black during the Scary Fast event, my immediate reaction was, "Want." But then upon seeing it in post-event videos and then up close in person, my enthusiasm waned a bit. I wanted black, as close to hex #000000 as possible, but the reality is that it's not possible to do that with anodised aluminium.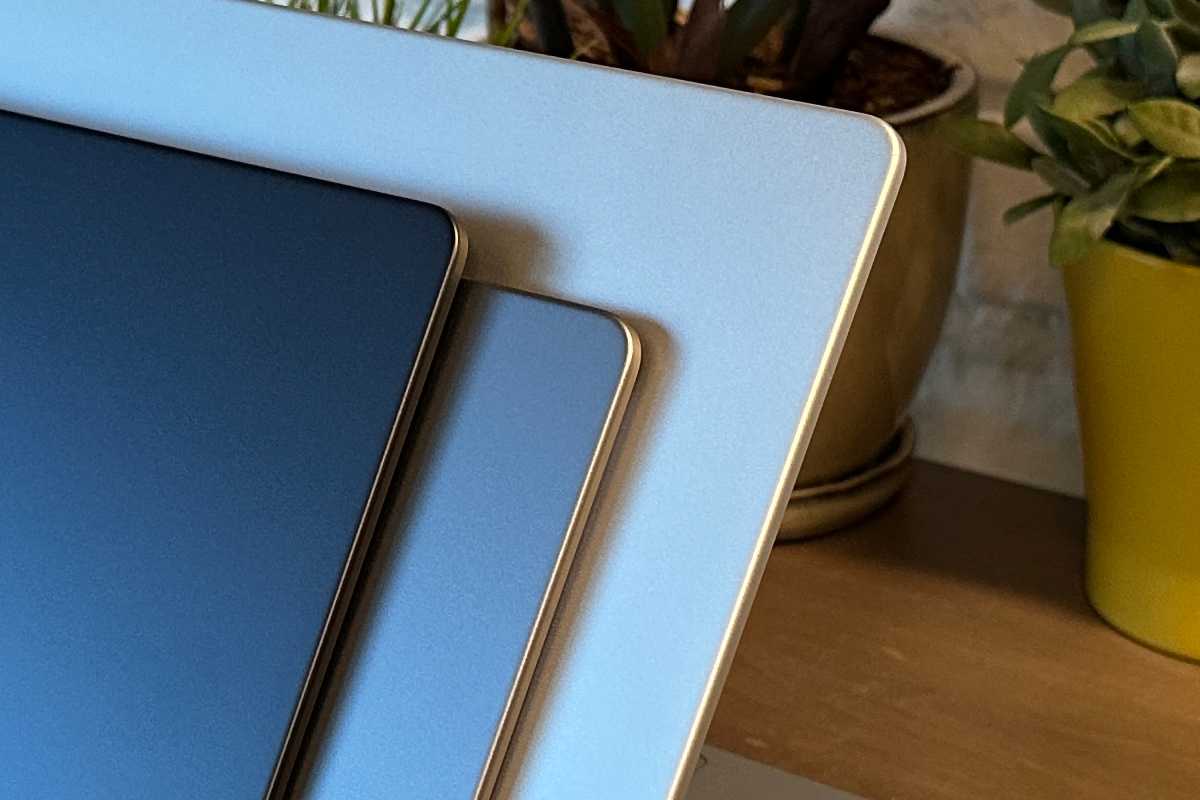 Foundry
In my time with the new MacBook Pro, my enthusiasm for Space Black has grown. The colour is more impressive when the laptop is open than when it's closed. There's almost no contrast between the black keyboard and the Space Black body, even with the backlighting turned up to the max. It's a different aesthetic from Silver and Space Grey, one that I welcome very much.
Does anyone remember Apple's last truly black laptop? It was the 2008 13-inch MacBook, and it was made back when Apple used plastic cases for its non-pro MacBook line.
It looked cool until you touched it, and then the body would be coated in fingerprints. Apple seems to remember that, too, so with the Space Black MacBook Pro, the company created, "a breakthrough chemistry that forms an anodization seal" and reduces the fingerprint effect. In my short time with the laptop, the seal seems to work. Fingerprints don't appear on the laptop when my hands are clean, and if they do appear, they're easy to wipe away.
There's one major caveat to Space Black and that it's not available with the base M3 14-inch MacBook Pr – your choices are Silver and Space Grey. There doesn't seem to be any real reason for this, other than to entice customers to step up to at least an M3 Pro model.
Apple might reason that Space Black is a reward for paying for a higher-end model. Regardless, if you spot a Space Black MacBook Pro in the wild, you now know that it's at least an M3 Pro model.
As for the design of the laptop, it hasn't changed since the M-series 14- and 16-inch MacBook Pro was introduced in 2021. It still has a sturdy aluminium body, rounded corners that are gentle on the hands, four rubber feet on the bottom, and a glossy Apple logo. There's no need to mess with success.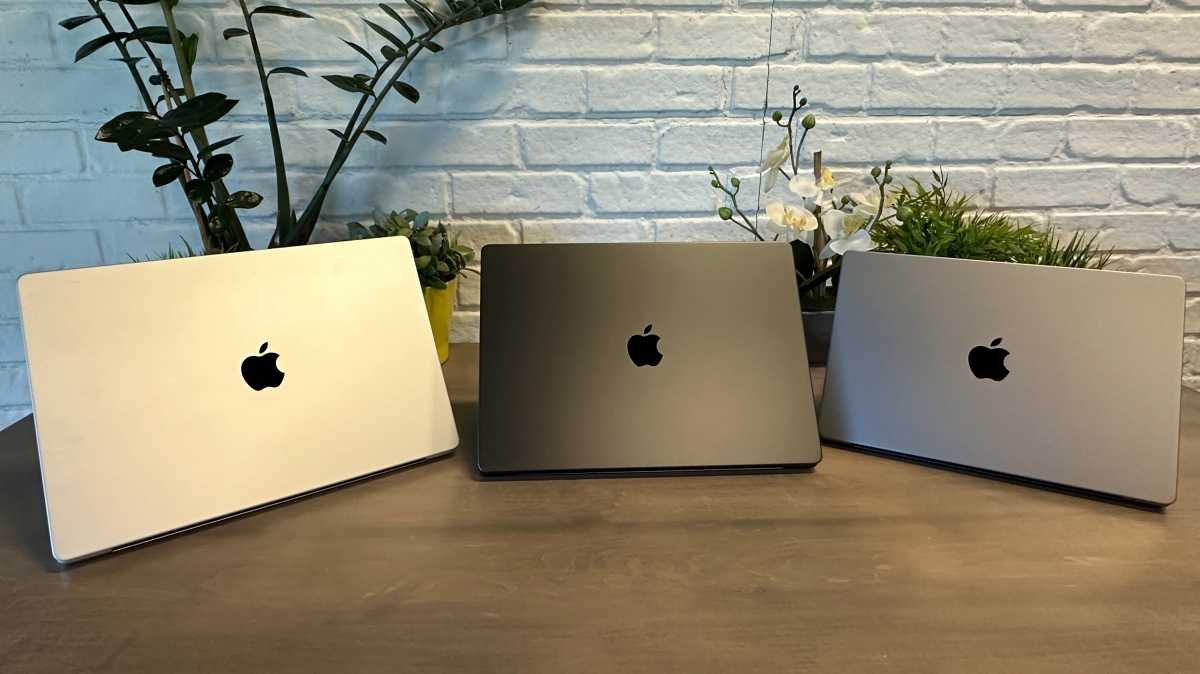 Foundry
The 16-inch MacBook Pro weighs close to five pounds. Combine that with the 0.66 by 14.01 by 9.77-inch (1.68 by 35.57 by 24.81-centimeter) size when closed, and it is too unwieldy for some users. Those who invest in the 16-inch model need the larger screen and understand the physical burden involved. For others, the weight and size of the 14-inch MacBook Pro is much more manageable.
Ports and connectivity
No changes from the previous model
Apple offers the same ports as it has before. The M3 Pro and Max models include:
Three Thunderbolt 4/USB-C ports
HDMI 2.1
SDXC card slot
MagSafe 3 charging port
3.5mm audio jack
Apple does not include any Thunderbolt or USB-C cables to connect devices. If you do need to buy cables, make sure you're buying the proper ones. For example, if you're using a Thunderbolt device, you need a Thunderbolt cable, which can also be used with USB-C devices. There are USB-C-only cables available that are much more affordable than Thunderbolt cables, but they don't support Thunderbolt and its speeds.
When Apple issued the 14- and 16-inch M2 Pro/Max MacBook Pro in January 2023, it made a major change to the HDMI port, upgrading it from HDMI 2.0 to 2.1. This was an important upgrade because it expanded the MacBook Pro's ability to support external displays. That HDMI 2.1 support continues with the M3 models.
As for wireless connectivity, the MacBook Pro includes Wi-Fi 6E and Bluetooth 5.3. I'm not able to cross off cellular connectivity from my MacBook Pro wish list with this laptop release, and probably never will.
Display and speakers
Higher SDR brightness on the Liquid Retina XDR display
Booming six-speaker system
The Liquid Retina XDR (mini-LED) display that Apple has been using has gotten a tweak. When in Standard Dynamic Range (SDR) mode (which usually means under general use), the display is capable of a maximum brightness of 600 nits, a boost from 500 nits in the last two generations of MacBook Pro. It's quite a noticeable difference, and that extra brightness is handy, especially if you happen to be in a sunny area for on-location work.
The rest of the display's specifications remain the same as before: 1,000 nits XDR (Extreme Dynamic Range) brightness (sustained full-screen 1,600 nits peak with High Dynamic Range (HDR) content only), 1,000,000:1 contrast ratio, support for one billion colours and the P3 colour gamut.
The display also has True Tone (adjusted to match ambient light) and supports ProMotion, which can increase the refresh rate up to 120Hz, depending on what's on the screen. The display has always been impressive and it looks as fantastic as ever.
The notch at the centre top of the display houses the FaceTime Camera. There's been speculation that Apple is going to eventually change the notch into a Dynamic Island, like that found on the iPhone, but the current notch is actually located in extra screen space, so it doesn't infringe on the aspect ratio of workspace below it. It would seem like a Dynamic Island would infringe, but I'm speculating based on nothing, really.
The six-speaker and force-cancelling woofer system is loud and thunderous. When I forget that the volume is up and music plays unexpectedly, it makes me jump in my chair. There's support for Spatial Audio on music or video with Dolby Atmos to enhance the entertainment experience.
For recording audio, the MacBook Pro has a three-mic array that works well, but it doesn't beat a quality external USB-C or Bluetooth mic. The 3.5mm audio jack supports high-impedance headphones.
Camera
1080p FaceTime camera
Supports Continuity Camera
I was slightly disappointed with the 1080p FaceTime camera on the M1 Pro MacBook Pro and the M2 Pro MacBook Pro and nothing has changed on Apple's part with the M3 Pro/Max MacBook Pro.
It's the same 1080p FaceTime camera, so much better than the 720p camera that Apple used in its laptops for way too long. Overall, the 1080p FaceTime is…fine. It's a good camera and you won't be embarrassed by the quality while video conferencing.
But the MacBook Pro deserves a 12MP Ultra-Wide camera with a 122-degree field of view, an ƒ/2.4 aperture, HDR for photos, 1080p HD video recording, and support for Centre Stage (which helps keep everyone in frame). I mean, that camera is on the 10th-gen iPad.
Apple has to find a way to make it thinner so it can fit on the MacBook Pro. Until that happens, users can always resort to using the iPhone as a front-facing camera via Continuity Camera.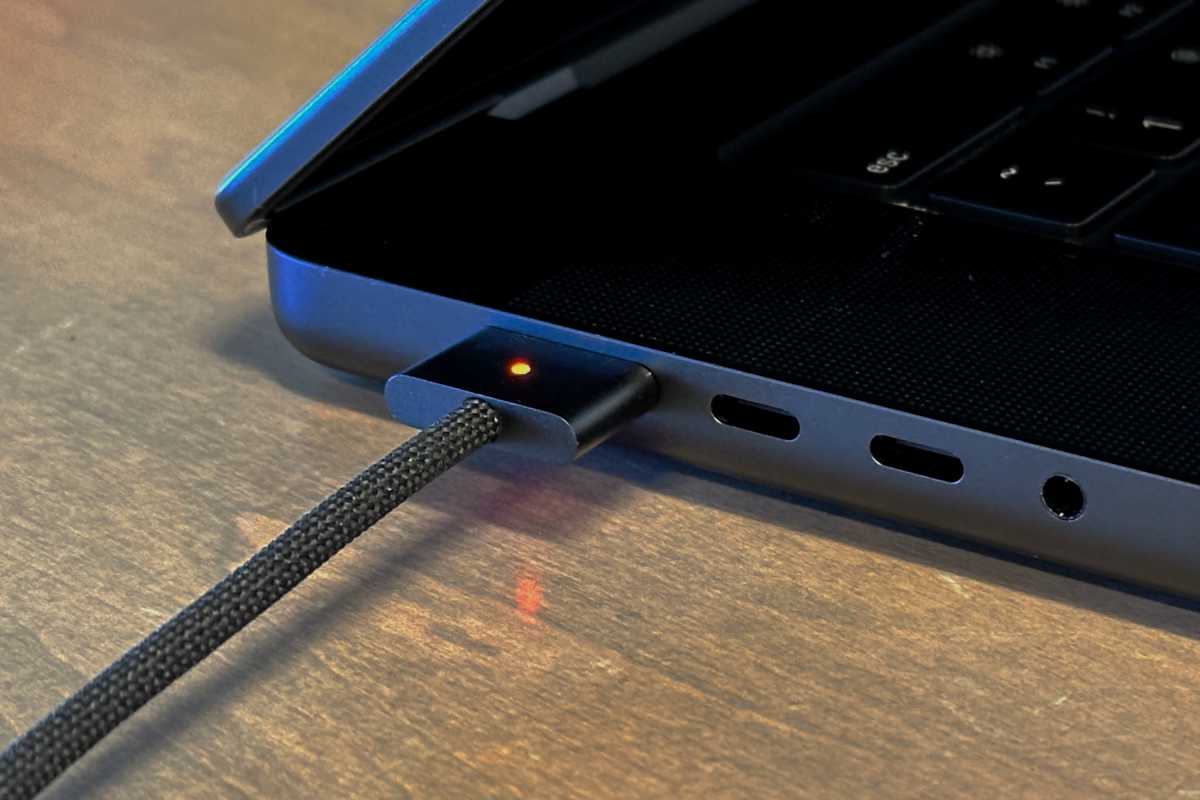 Foundry
Battery life & charging
A battery that will last all-day
140W adapter included with 16-inch model
Included braided MagSafe cable in matching colours
The M3 Max MacBook Pro has the same 100-watt-hour lithium-polymer battery and 22-hour battery life with "Apple TV app movie playback" as it did with the M2 Max MacBook Pro.
I tested the battery life by playing a video on a continuous loop at full screen with the display set to 150 nits, which is a little dimmer than Apple tests. The battery ran out 27 hours later, just as it did with the M2 Max MacBook Pro. Sure, you'll get a little shorter battery life if you're doing more strenuous tasks, like file renders, playing video games, etc., but you'll go a long way before you need to plug in.
Apple includes a 140-watt USB-C power adapter with a MagSafe cable. When you use the 140-watt adapter with the 16-inch MacBook Pro, fast charging fills the battery up to 50 percent in 30 minutes.
Also, the included MagSafe cable is braided and coloured to match the MacBook Pro – yes, that means a Space Black model comes with a black MagSafe cable.
Keyboard and trackpad
Backlit keyboard with full-sized Function keys
Touch ID
Force Touch trackpad with Multi-Touch support
Apple has not changed the keyboard and trackpad since the M1 Pro/Max MacBook Pro. The keyboard is backlit and the Function keys are full-sized. A Touch ID button is located in the upper right corner. The trackpad is big and responsive.
Price & availability
The 16-inch MacBook Pro in this review is available for £4,099/$3,999.
To bring the price down, you can opt for a M3 Max configuration with fewer CPU and/or GPU cores, and a smaller amount of memory and SSD storage, which brings the price down. To lower the price even more, you can switch the chip to an M3 Pro or get the smaller 14-inch model.
While very capable, that makes it one of the most expensive laptops you can buy.
Should you buy the M3 Max MacBook Pro?
Three generations into the M-series chips, and the MacBook Pro continues its winning ways. This is a laptop that gets it all right, from the design, ports, and display to the power of the chip inside and the battery life. There's something very satisfying when using a great tool, and that's the feeling you get when using a MacBook Pro.
That being said, if you invested in an M2 Max MacBook Pro, there's no need to upgrade – you've already got a great laptop. The speed difference isn't enough to make a big change in your productivity, and nothing else about the laptop has changed, except for the SDR brightness and the Space Black option.
If you have an M1 Pro or Max MacBook Pro, the consideration requires more thought. The speed difference is much more noticeable and can be appreciated. To help offset the cost, see what you can get in the Apple Trade-In program.
If you're still trucking along with an Intel-based MacBook Pro, now is the time to upgrade. If the main reason why you've waited is that software developers haven't made an M-series native or a Universal version of the apps you use, well, it's been over three years since the M1 was introduced. If they haven't made one now, they never will–that's fine because Rosetta2, the emulation engine that runs Intel-native apps on M-series chips, runs well and you won't notice a performance hit.
If there's some other issue that prevents your must-have app from running on an M-series Mac, consider finding a new app, because the performance gains are so tremendous that you're really missing out if you stick with Intel. Make the change. You'll be better for it.
Specs
Apple offers the 14-inch MacBook Pro with a base M3 chip. Then, Apple offers both the 14- and 16-inch MacBook Pro with M3 Pro or M3 Max chips.
The 16-inch MacBook Pro in this review is the most expensive standard configuration in Apple's lineup. It can be customized with more memory and a larger SSD, which will raise the price.  Our review unit has the following specifications:
CPU: M3 Max with a 16-core CPU (12 performance cores, 4 efficiency cores), 16-core Neural Engine
GPU: 40-core GPU
Memory: 48GB unified memory (400GBps memory bandwidth)
Storage: 1TB SSD
Display: 16.2-inch Liquid Retina XDR display; 3456-by-2234 native resolution at 254 pixels per inch; 1,000,000:1 contrast ratio; 1,000 nits sustained full-screen XDR brightness, 1,600 nits peak HDR content only, 600 nits SDR brightness; P3 colour; True Tone; ProMotion
Ports: 3 Thunderbolt 4/USB-C; SDXC card slot; HDMI 2.1; MagSafe 3; 3.5mm audio
Networking: Wi-Fi 6E (802.11ax); Bluetooth 5.3
Weight: 4.8 pounds (2.16 kg)
Dimensions: 0.66 x 14.01 x 9.77 inches (1.68 x 35.57 x 24.81 centimetres)
Battery capacity: 100Wh
This article was originally published on Macworld.com.