Not everyone has hundreds to spend on a pair of Apple's latest AirPods. However, there are loads of cheap wireless earbuds on the market to choose from that are better than you might expect given their low asking price.
But buying cheap earbuds can be a minefield because you never really know what you're going to get – especially if it's from a Chinese brand you've never heard of.
You could argue that you get what you pay for, except that really isn't the case, and we've found some amazing products at significantly lower prices. The options here are all under $100/£100.
To save you the headache of finding a pair of Bluetooth earphones that impress on more than just price, we've rounded up some of our favourite wireless buds. Our expert team have tested all these options, so you can be sure that you're getting a truly great deal. You can also check our main wireless earbuds chart, too.
Find out how we test audio.
Best budget wireless earbuds 2023
1. Anker Soundcore Life A2 NC – Best Overall
Pros
Hybrid Active Noise Cancellation
Powerful bass
Great battery life
Cons
No auto-pause tech
Case feels a little cheap
No auto-switching of ANC profiles
Price When Reviewed:

$79.99
If you're not on a really tight budget then you'll really struggle to find better wireless earbuds for this kind of money.
They might have a slightly cheap-feeling case and no auto-pausing tech but those downsides are massively overshadowed by great performance and a surprisingly comprehensive feature set.
As well as powerful bass, the A2 buds have excellent noise cancelling with three presets for different environments and the app offers EQ sound customisation. Throw in touch controls and solid battery life and there's very little to dislike.
These are the best budget noise cancelling wireless earbuds you can get.
Read our full
Anker Soundcore Life A2 NC review
2. Google Pixel Buds A – Best Smart Features
Pros
Google Assistant & smarts
Compact design
Good sound
Cons
No ANC
Short bud battery life
Can't customise controls
At the top end of the budget market, the Pixel Buds A have some omissions that might make you look elsewhere. Mainly the lack of noise cancelling and limited battery life of the buds on their own, although fast charging helps here.
However, Google's cheapest earbuds will appeal to those looking for something a little different to rivals. While they are comfortable and offer good sound quality, it is the smart features that make them stand out.
The Google Assistant is built-in, there's ear detection, Fast Pair, Adaptive Sound, real-time translation and more.
Read our full
Google Pixel Buds A-Series review
3. Xiaomi Redmi Buds 4 Pro – ANC & Wireless Charging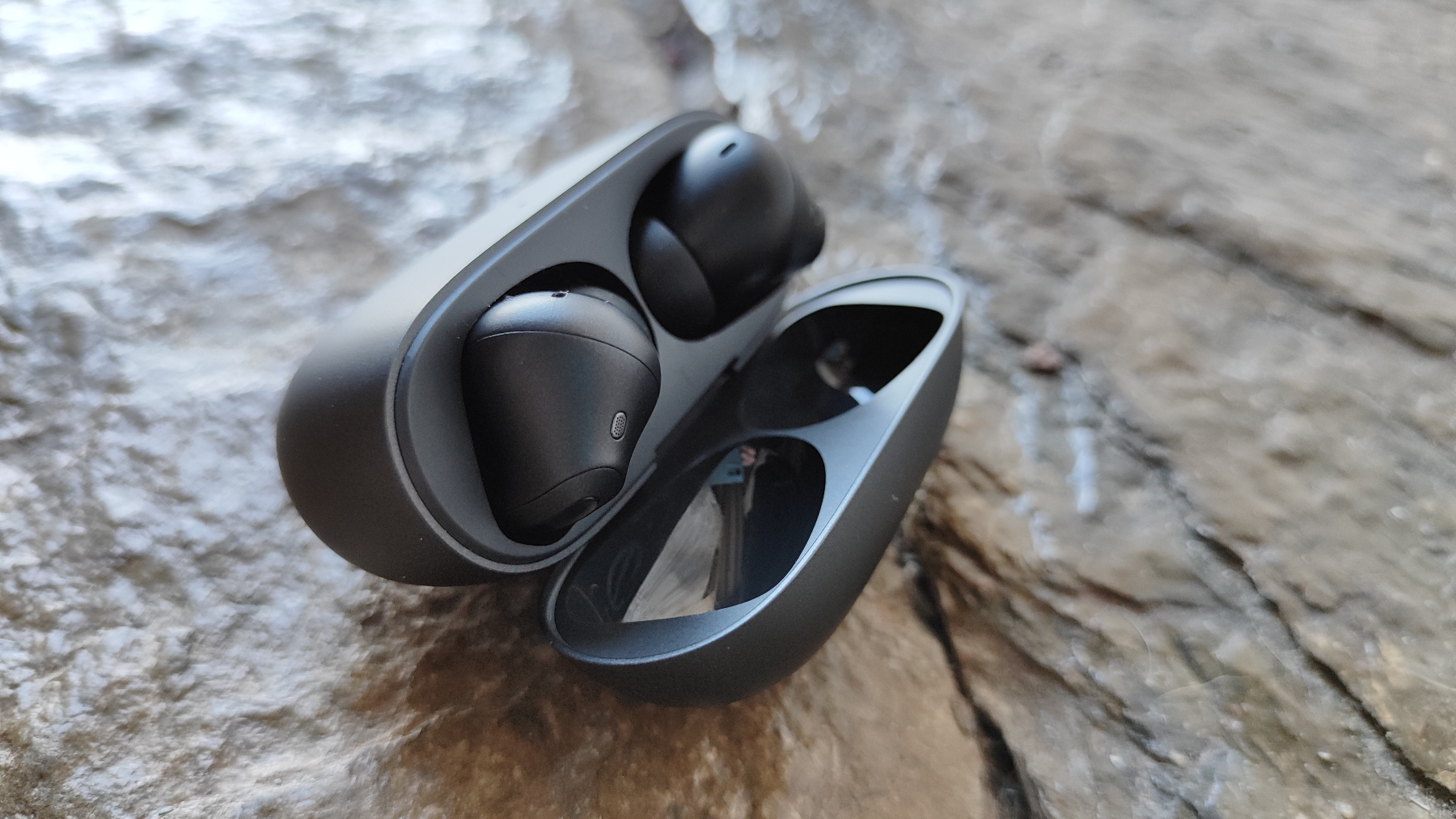 Pros
Adaptive ANC
Good sound quality
Hi-Res Audio compatible
Reliable controls
Cons
ANC isn't that powerful
Need an app to access all features
We've been fans of Redmi Buds for a while and following the already excellent 3 Pro, the Redmi Buds 4 Pro are another solid offering.
The tweaked design of the earbuds makes them very comfortable for long periods of listening and the active noise cancelling is improved, too, though still behind some rivals.
There are still premium features you rarely find at this kind of price, too, including wireless charging and now Hi-Red Audio support thanks to LDAC.
It's frustrating to need the app for certain features but that's also not uncommon for earbuds. Overall, these are another bargain purchase from Xiaomi.
Read our full
Xiaomi Redmi Buds 4 Pro review
4. Nothing Ear (Stick) – Best Open Design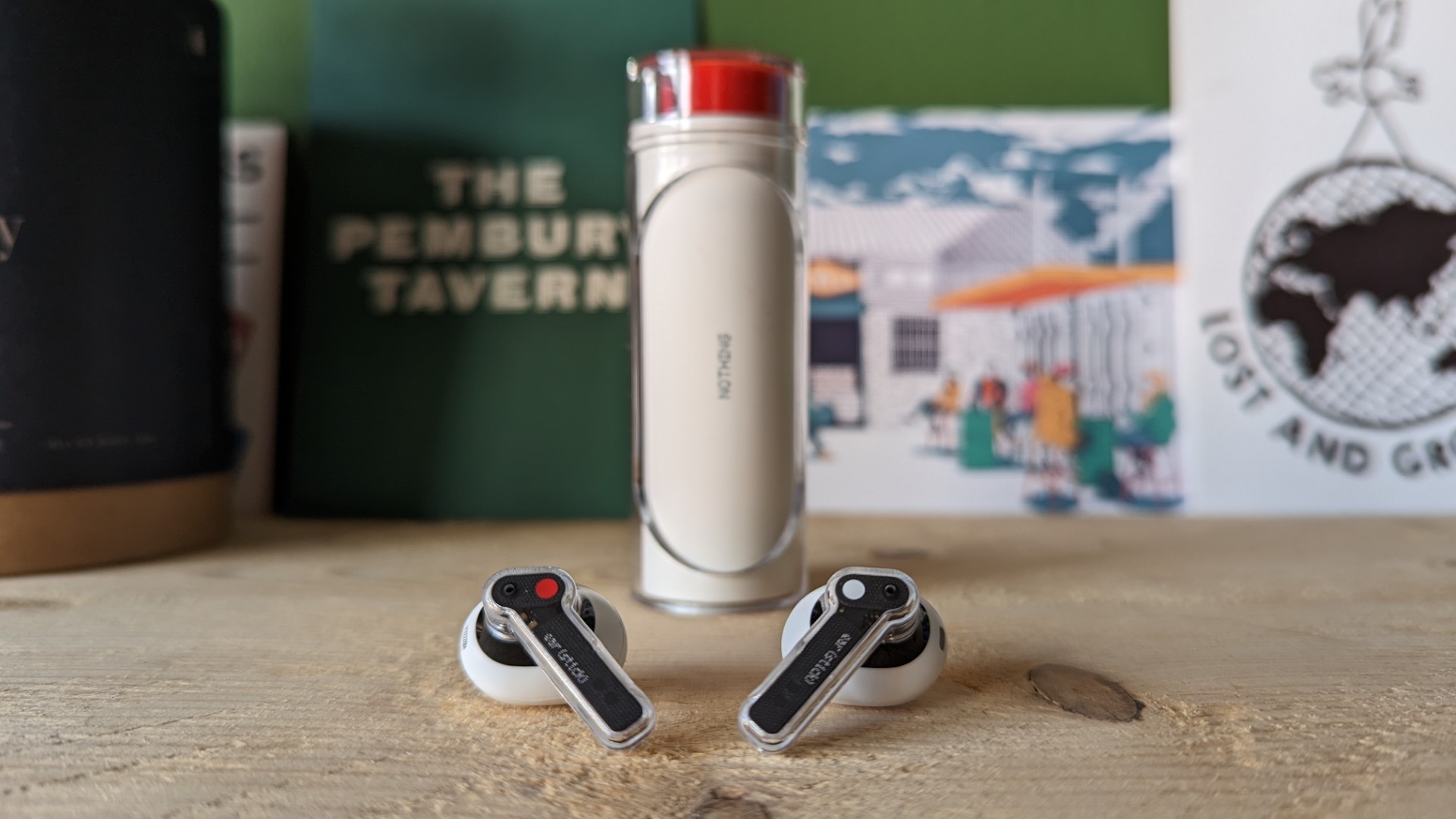 Pros
Comfortable & secure
Good battery life
Spacious sound
In-ear detection
Cons
Bass can be lacking
No ANC
Tiny USB cable
Whether the Nothing Ear (Stick) are the right earbuds for you depends on what you are looking for. What these are not, is a replacement for the Ear (1).
The fit and comfort level is very impressive for a 'half-in' design with no silicone ear tips to keep things in place. They also sound good without needing to adjust them into a sweet spot, although the Ear (1) certainly offer superior sound.
We love the innovative and interesting case, even if it doesn't have wireless charging. It's also worth noting there's no noise cancelling here but if you want earbuds for long periods without fatigue and a spacious sound where you can hear things around you to some extent then these might be perfect.
Read our full
Nothing Ear (Stick) review
5. Huawei FreeBuds 5i – Best Hi-Res Audio
Pros
Comfortable & IPX4
Sound quality
Adaptive ANC
High-Res Audio
Cons
Fragile case
ANC could be better
No wireless charging
Huawei continues to offer excellent wireless earbuds at budget prices and the FreeBuds 5i get you an astonishing amount of features for the price.
Headlining the list is support for Hi-Res Audio via Sony's popular LDAC codec, which is typically reserved for much more expensive earbuds. Sound quality is well-rounded and there's Adaptive noise cancelling, too, although some rivals offer better performance in this area.
Still, it's decent and the FreeBuds 5i are comforable and battery life is solid, too. There's no wireless charging so look to Xiaomi for that and the case isn't the most durable but Huawei did add IPX4 water resistance which is a step up from the 4i.
Overall, a very good pair of cheap wireless earbuds indeed.
Read our full
Huawei Freebuds 5i review
6. Asus ROG Cetra – Best for Gaming
Pros
Impressive sound quality 
Solid ANC 
Decent battery life 
Comfortable fit
Cons
No wear detection
Case feels a little cheap
No auto-switching of ANC profiles
Price When Reviewed:

$99.99
You might not even know Asus makes true wireless earbuds, but you wouldn't know the firm is new to it. While the Cetra buds are part of the company's Republic of Gamers (ROG) range, they're a great affordable option for just about anyone.
Sound quality is solid with rich, detailed audio and thumping bass to boot. Both active noise cancellation modes are effective at blocking out external noise, but it's great to also have the option to amplify what's going on around you.
However, the fiddly touch controls used to move between these modes are frustating, while much of the impressive app functionality is buried beneath an unintuitive design. But with great battery life and a very comfortable fit, these are budget buds that are worth considering.
Read our full
Asus ROG Cetra True Wireless earbuds review
7. OnePlus Buds Z2 – Best for Comfort
Pros
Impressive smart features
Great audio with strong bass
ANC & Transparency mode
Cons
Some features exclusive to OnePlus phones
Occasional Bluetooth connectivity issues
Although they are a chunk more expensive than the previous model, the Buds Z2 are a huge improvement and well worth considering if you have enough budget. They are still very comfortable and the app offers a fit test.
They are better with OnePlus phones though as features like Dolby Atmos and low-latency are exclusive. Still, there are lots of smart features available regardless such as Fast Pair, multi-device connectivity, wear detection and customisable touch controls.
Furthermore, sound quality and ANC are both great and battery life can be long if you don't use noise cancelling too much.
Read our full
OnePlus Buds Z2 review
8. Mobvoi Earbuds ANC – Affordable ANC & Voice Control
Pros
Good sound quality
Voice commands
ANC modes
Cons
ANC is a little weak
No volume control
Limited battery life
Price When Reviewed:

$59.99
Getting active noise cancelling for under £50 (or $60) is unusual so this makes the Mobvoi Earbuds stand out on its own.
While the ANC performance isn't amazing, there is also a useful Sound Pass-Through mode so it's not simply on or off. Sound quality is overall decent and you can also make use of voice commands and touch controls, the latter being particularly unusual at this price.
You don't have any volume control which is a shame and the battery life of the earbuds alone is limited to under three hours.
Read our full
Mobvoi Earbuds ANC review
9. Jabra Elite 4 – Best Transparency Mode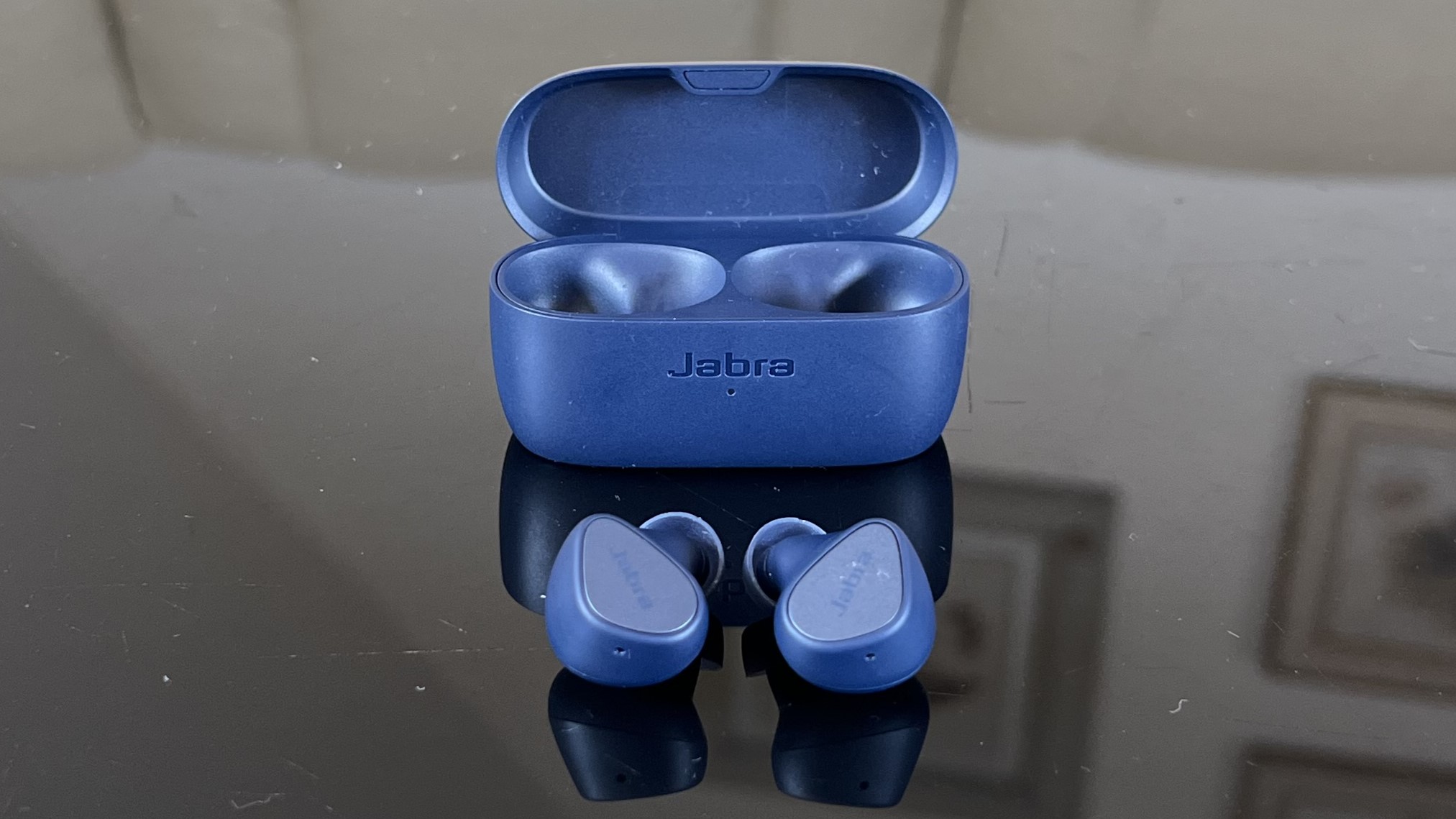 Pros
Great sound quality 
Impressive ANC 
Solid battery life
Good companion app
Cons
Cheap-feeling case 
Annoying controls 
Price rise compared to Elite 3
Price When Reviewed:

$99.99
It's somewhat more of the same from Jabra here and the Elite 4 sadly cost more than their predecessors.
However, the firm has added active noise cancelling and decent ANC including the best transparency mode we've tried on a budget price, so it's not like the price rise isn't justified to some degree.
Battery life is solid with up to a total of 28 hours between the buds and case and Jabra's app is one of the best including a very useful EQ. The higher price just means there's strong competition from the likes of Google, OnePlus and Nothing.
Read our full
Jabra Elite 4 review
10. Tronsmart Oynx Ace Pro – Best Battery Life
Pros
Good sound quality
Excellent battery life
Gaming Mode
Cons
No ANC
Tricky to get out of the case
Can slip out of ears
Price When Reviewed:

39.99
If incredibly cheap and long lasting are top of your wishlist for wireless earbuds then Tronsmart's Onyx Ace Pro will be a good purchase. They can last for six hours on their own and a total of 36 hours when you factor in the case.
There's good audio performance, comfort and also a Gaming Mode to ensure good sync with your phone (which also helps for streaming video, too).
They are undoubtedly a bargain and less than half the price of many rivals, but they don't justify the 'Pro' moniker with no noise cancelling or other typically pro features like wireless charging.
Read our full
Tronsmart Oynx Ace Pro review
Your buying guide to the best budget wireless earbuds in 2022
As mentioned earlier, buying affordable wireless earbuds is very difficult due to a saturated market. To ensure you pick the right pair, here's some buying advice to answer the main questions.
FAQ
---
1.
What to expect from budget wireless earbuds?
One of the main things you need to do is reign in your expectations. Budget wireless earbuds are always going to cut corners compared to more expensive flagship models to achieve the lower price point.
Sure, you can find premium features like active noise cancelling (ANC), touch controls, wireless charging, wear detection, digital assistant support and many others.
You might be able to get a few on the same pair, but it's highly unlikely you'll get it all so you may need to decide which ones are most important to you.
2.
Which brand of budget wireless earbuds are the best?
Choosing a brand is a bit harder in the budget market for wireless earbuds. There are some familiar names but also lots of lesser-known Chinese brands that undercut the big names.
So while you might see the likes of Google, Jabra and Huawei here there are lots of others and don't discount them just because you've never heard the name.
The likes of Xiaomi, Anker and Mobvoi make decent products and if you're in doubt, read our full reviews of those products. Our team of experts put every pair through rigorous testing to ensure you're not buying a dud device.
3.
How much should I spend on budget wireless earbuds?
We can't answer that for you directly and while our price limit is $100/£100, you might need to spend a lot less than that.
There's always a range of prices in this chart in the hope there's something for every budget and our live price tracking will find you the cheapest prices, too.
Of course, just bear in mind that the less you spend, the more likely you are to get lower quality and fewer features.