At a glance
Expert's Rating
Pros
Cheaper than Samsung's foldable
Closes fully flat
Comfortable to use when closed
Great main camera
Cons
No water-resistance
No wireless charging
Unpolished software
Disappointing ultrawide camera
Our Verdict
The Honor Magic Vs is a (slightly) more affordable rival to Samsung's Galaxy Z Fold 4. It looks the part, and strong specs impress too, but with no wireless charging or water-resistance, and some frustratingly unpolished software, the Galaxy remains the better buy.
Price When Reviewed
Not available in the US
Ever since the first Galaxy Z Fold phone launched – four years ago – Samsung has enjoyed essentially zero competition in the West.
Huawei has released a string of book-style foldables that no-one will buy because they don't run Google; Oppo, Vivo, and Xiaomi have pushed their models in China but nowhere else; and unusual players including Pablo Escobar's brother have run a string of small offerings (and sometimes scams) to build out the marketplace.
Finally though, that changes. Honor is officially bringing its Magic Vs foldable to markets worldwide (except North America), and for a price designed to undercut its big Samsung rival.
With a hinge that closes fully flat, a pretty powerful triple rear camera, and an exceptionally slim body, the Magic Vs undoubtedly has the hardware to put Samsung in its place. 
There's a predictable lack of polish that holds the software experience back though – and a few luxury features I'd want to see at this price – that make the Z Fold 4 a better buy for most. But what a relief to see Honor giving Samsung a run for its money.
Design & build
Hinge that closes fully flat
Exceptionally thin for a foldable
No IP rating
The most interesting choice that Honor made in designing the Magic Vs is to build it as a phone first, and a foldable second.
By that I mean that it's designed to work as well as possible when closed, giving you something pretty close to a traditional smartphone.
To that end, the Magic Vs is thin – just 12.9mm thick when shut, making it only a little heftier than the likes of the Samsung Galaxy S23 Ultra. Don't get me wrong, it's still chunkier than basically any standard slab phone, but not so much that it feels bothersome. 
Importantly, Honor has also made sure that when the phone closes, it closes flat. Samsung's latest foldables still shut into a wedge shape, with a slight gap between the two halves of the display. 
By contrast the Magic Vs seals shut, feeling solid and secure when closed. If anything it's a little too snug – it's impossible to open with one hand, and even with both sometimes it feels like you've got a fight on your hands to unfold the phone.
That solidity probably helps the haptics, which have a reassuring heft to their buzzes, and are one part of why the phone feels so premium in the hand.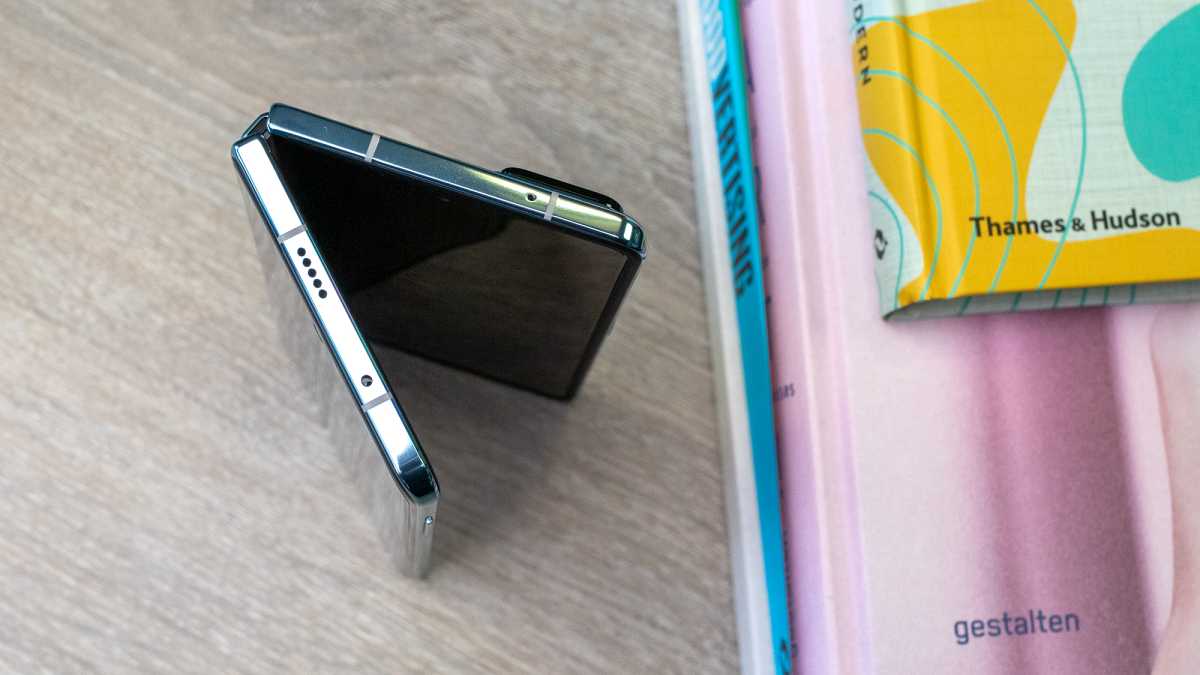 Henry Burrell / Foundry
Honor is boastful of how much it simplified the hinge for the Vs – down to just four components, supposedly – but part of the price for that is that it's not as capable as the Z Fold 4 at sitting open at various angles, with a tendency for the screen to slowly wobble open if you try to prop it up.
It's not helped by the chunky, lopsided camera module. I like the look of this – a slightly curved rectange set against the cyan or black body of the phone – but it protrudes enough to make the phone exceptionally wobbly when lying down, and its weight imbalances things further when the screen is partially open.
There's one final downside to the design here: while Samsung has managed to waterproof its latest foldables, there's no IP rating at all on the Magic Vs, and Honor has said little to suggest you can safely get this phone wet. It's survived some light rain during testing, but I wouldn't trust it with much more than that.
Henry Burrell / Foundry
As always, a caveat for foldables: durability is hard to predict, and even Samsung devices have routine issues. Only buy one of these if you can afford for it to break down, and ideally make sure you'll be covered by good insurance. This is an extra edge for Samsung, which has more widespread repair facilities you can fall back on if needed.
Screens & speakers
Excellent, tall 120Hz AMOLED outer display
Square-ish 90Hz inner display
Decent, but quiet, speakers
As I said before, Honor decided to focus on optimising the Magic Vs to work well when it's closed. With that in mind, the company actually put a better panel on the phone's outside than on its inside.
Henry Burrell / Foundry
The exterior cover display here is a 6.45in 120Hz AMOLED panel with a resolution of 1080×2560. It has a faster refresh rate and higher resolution than the inner screen, and runs brighter, with specs that basically match most flagship phone panels, with the exception of lacking LTPO tech for a dynamic refresh rate.
I've found myself using this outer display much more than the phone's inner one – as seems to be intended – and it's never felt like a compromise from any other phone I review. It's a good shape, comfortable size, and looks fantastic.
That said, the internal display is slightly more limited. The big one is the drop to a 90Hz refresh rate, but it's also a touch dimmer and less vibrant than the other screen. It's certainly not a bad display, but you will notice the difference.
Henry Burrell / Foundry
As with any foldable phone there's a crease in the middle. It's hard to spot head-on, but easily visible from an angle, and deep enough to notice as you swipe over it. If you want the direct comparison, I'd say the crease here is on a par with the one you'll find on Samsung's Fold, and more noticeable than on the likes of Oppo's China-only Find N2.
The speakers are one of the phone's slight disappointments. I usually don't care much either way about phone speakers, but the ones here are quieter and tinnier than I'd expected from a phone this size. Honor has also put both on the front half of the phone, meaning they're on the same side when it opens up, ruining the stereo effect.
Specs & performance
Flagship-level Snapdragon 8+ Gen 1 chip
12GB RAM and 512GB storage
One thing Honor hasn't skimped is on power. The Magic Vs is equipped with the Snapdragon 8+ Gen 1 – not quite the latest flagship chip from Qualcomm, but still recent, and powerful enough to keep up with the most demanding stuff you can do on a smartphone.
For the global launch, Honor has also decided to keep things simple, with just one version available, equipped with 12GB of RAM and 512GB of storage. That's more than Samsung offers by default, another reason the Honor may look compelling based on price alone.
Looking at benchmarking apps, the Magic Vs lags behind some of the latest slab flagships, but is a close match to the Z Fold 4 on pure performance.
Note that when it comes to graphical performance, there is a difference between the phone's two displays. While the outer screen has higher pixel density, the larger inner screen has more pixels overall. That means it hits lower frame rates on the GFXBench graphics tests, and will also run games slightly slower. That's true for any book foldable of course, but worth bearing in mind.
Elsewhere, 5G, Wi-Fi 6, Bluetooth 5.2, and NFC make up the phone's networking capabilities – all par for the course.
As for biometrics, as is typical for foldables there's no in-display fingerprint scanner, but instead one is built into the power button, and works well. Face unlock is an option too.
Camera & video
Impressive triple rear camera
Versatile setup
Two identical selfie cameras
Most foldables compromise on cameras to some extent. That's true here too really – Honor's best camera is in its Magic 5 Pro flagship, not the Magic Vs – but I've been impressed with how capable the offering here is.
Let's start with the rear cameras, where you find a trio of options: a 54Mp, f/1.9 main camera, a 50Mp ultrawide, and an 8Mp telephoto with 3x optical zoom.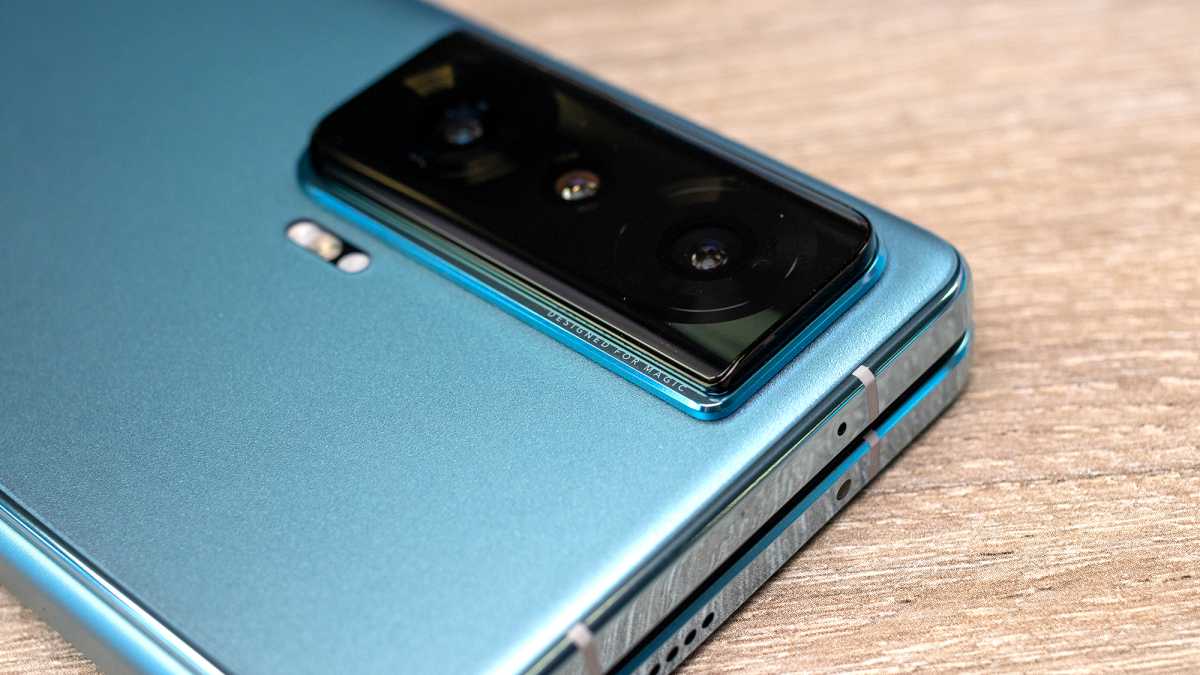 Henry Burrell / Foundry
As you'd expect from any phone this price, the main camera impresses. Shots are crisp and detailed, even in lower light, with decent dynamic range. Colours definitely skew towards the bright, punchy, and over-saturated, but rarely go so far in that direction as to look totally unnatural.
Nighttime and low light performance isn't up there with the best of the best, but the phone is more than capable of taking detailed shots of a nighttime cityscape, only occasionally tripping up on how to handle bright lights within an otherwise dark frame – a problem even the iPhone 14 Pro Max struggles with, so the Magic Vs is in good company.
The 50Mp ultrawide doesn't impress as much. Despite the similar sensor resolution there's a distinct drop in detail when you switch to this lens, which is exacerbated by dimmer lighting. Dynamic range suffers too, and colours often seem darker and flatter than the main camera. 
It's far from a bad camera, and remains a good option to have for group photos or panoramic vistas, but don't be fooled by the megapixel count into thinking this is on a par with the primary lens.
Fortunately the telephoto is better. It's a 3x zoom optical lens, with a camera app shortcut for 10x, and an option to go as far as 30x by pinching in. 
Photos taken at 3x zoom look good, with little noise, loads of detail, and a good colour match for the main shooter. Even that 10x option marks a sharp drop in quality though, turning in photos with that soft watercolour effect even in good lighting, so I wouldn't want to push this zoom too far. Here are a few comparison shots at the 3x and 10x settings:
You get two selfie cameras, one on each display, giving you options for both photos or video calls. To keep things simple, Honor has equipped each display with the exact same 16Mp, f/2.4 camera, so there's no reason to prefer one over the other when it comes to image quality.
Selfies come out great from both cameras, with oodles of detail and natural skin tones. The algorithmic portrait mode impresses too, with a range of bokeh options and excellent edge detection that handles the wispy ends of my hair well, with only a couple of stray strands caught in the blur.
See if you can spot the difference between the two lenses in these shots (with the inner camera first in each pairing):
Video recording goes up to 4K@60 from the rear lenses, or 1080p@60 for either selfie shooter, and is typical for Android (which is to say: it's good, but no iPhone). The main downside is that with no optical image stabilisation on the main rear camera, you won't be able to get especially stable footage if you're shooting on the go. 
Battery & charging
Big battery that runs all day
Fast wired charging
No wireless charging
Despite making a thinner foldable than Samsung, Honor has somehow managed to squeeze in a bigger battery.
The 5000mAh capacity here is among the best you'll find in any flagship phone, and even with two displays to worry about it makes the Magic Vs an all-day phone.
In fact, I tested it while covering the MWC 2023 trade show where it was given its international launch. That means heavy usage, with roaming data, hot-spotting my laptop, and taking plenty of photos. Through all that, I still usually had 30% of the battery left by the time I hit my hotel bed.
Charging is fast too, with 66W wired charging over USB-C. I found that could restore 40% of the battery in just 15 minutes, and 77% in half an hour – fast enough for almost anyone.
The only real downside is that there's no wireless charging support, which is the trade-off to get those faster wired speeds.
Software & updates
Ships with Android 13 and MagicOS 7.1
Foldable implementation is imperfect
Three OS upgrades and five years of security patches
The software is the single biggest reason to skip the Magic Vs and buy Samsung's foldable instead.
The Vs ships with Android 13, running Honor's MagicOS 7.1 skin on top. MagicOS is far from my favourite Android skin at the best of times, and isn't helped here by a half-hearted integration of foldable features – even omitting many that are built into Android itself.
Henry Burrell / Foundry
None of the additions found in the foldable-focussed Android 12L are included here, such as the taskbar or Google's own take on multi-tasking.
The software version I'm running doesn't even include an app drawer – a fundamental and basic part of the Android OS – though I've been assured that's on the way in the next update, so should be included by the time the phone is on sale.
Honor does offer its own vertical split-screen option for running two apps, and it works pretty well, but there's more versatility in Samsung and other rivals' devices.
Just as frustrating is the fact that every other time you open and close the phone a pop-up warns that some apps won't display properly and suggests you re-open them. For what it's worth, only 1Password and Slack have actually struggled to adapt to the changing aspect ratio, and I'd probably rather just put up with those edge cases than be warned every time.
Henry Burrell / Foundry
The other software annoyance isn't really Honor's fault: too many Android apps simply can't handle the large, square inner display well. Some apps open in narrower windows and letterbox the display. Some open fully but magnify content so hardly anything fits in the display anyway. Video calls routinely crop awkwardly, cutting off half the feed.
It's been years since foldables started rolling out and app support still doesn't feel much better, even from major players like Instagram, Twitter, and WhatsApp. Hopefully increased competition from Honor and others will speed up progress, but for now be ready to compromise.
Finally, in a welcome touch Honor has announced that it will deliver three years of Android version updates to the Magic Vs, with five years of security patches. That doesn't quite match Samsung's four-year software promise, but it's a major improvement from previous Honor handsets, and means the Magic Vs should last you a few years of use.
Price & availability
The Honor Magic Vs is launching in the UK on 19 May, with a release rolling out across Europe and Asia too. It costs £1,399/€1,599 for a model with 12GB of RAM and 512GB storage, but if you buy it from the Honor store by 26 May and subscribe to its newsletter you can save £200 on that.
At full price it's around £250/€200 cheaper than the Galaxy Z Fold 4, and includes double that phone's default storage, with an even bigger price gap from the Google Pixel Fold.
Still, considering the Samsung offers slicker software, S Pen support, waterproofing, wireless charging, and better repair options, it remains the better buy for most people. After all, if you can afford to buy a phone this expensive, you can probably afford to spend a little more.
Check out our full guide to the best Android phones for more options, or the best Honor phones for more from the brand.
Verdict
The Honor Magic Vs is an impressive foldable phone, and a notable step up in quality from the first-gen Magic V.
The hardware is slick, with a slim body and secure hinge design, and this base look and feel definitely trumps Samsung's offering. Faster charging and more powerful rear cameras give the Magic Vs an extra edge.
But in a phone at this price point, the lack of software polish is a major drawback – and features like waterproofing and wireless charging look like unacceptable omissions.
Honor hasn't quite beaten Samsung at its own game – but it gets kudos for being the only company brave enough to try.
Specs
Android 13 (MagicOS 7.1)
7.9in 90Hz foldable OLED, 2272 x 1984
6.45in 120Hz exterior OLED, 2560 x 1080p
Qualcomm Snapdragon 8+ Gen 1 chipset
12GB RAM
512GB storage
Camera:

54Mp main camera (f/1.9)
50Mp ultrawide & macro camera (f/2.0)
8Mp 3x optical zoom camera (f/2.4)
16Mp front camera (f/2.45)

Side-mounted fingerprint sensor
WiFi 6
Bluetooth 5.2
NFC
5G
4900mAh battery
66W wired charging
Dual-SIM
Height
Width

Unfolded: 141.5mm, folded: 72.6mm

Depth

Unfolded: 6.1mm, folded: 12.9mm