At a glance
Expert's Rating
Pros
Great picture quality
Smart swivel stand
Powerful speakers
Cons
Colours could be better
Changing settings is cumbersome
Our Verdict
The One should probably be called The Good Enough, because that's what it is. It ticks off many features, but isn't uniquely amazing at anything. On a limited budget, it's probably exactly what most TV buyers are looking for, and for them it's a good choice. However, another round of interface design would have been welcome.
Philips wants to simplify the way consumers buy TVs. There are too many models out there and they can be deceptively similar, with long cryptic names and overly technical descriptions. So a couple of years ago, Philips launched the concept of The One, a "people's TV" that will give you everything you need at an affordable price. Not the TV for discerning cineastes, but something that should make most of us more than happy with our TV.
The first two "The One"s I tested more or less lived up to that, but not without some reservations. One had a somewhat weak panel that only managed 60Hz and couldn't handle motion too well. The next year it was thin sound that caused problems.
This year – 2023 – Philips seems to have hit the mark on both of those points. The TV I received for testing has the full model number 65PUS8808/12, and is 65 inches. It's around £900 (found at Costco), but it's not widely available in the UK. And, contrary to the aim of having just one model, you will find a whole load of slightly different model numbers for The One if you search online, so be careful as specs, sadly, do vary.
Anyway, if 65 inches isn't what you want, there's a wide range of models from 40 to 85 inches.
The 65-incher is a relatively heavy thing to unpack and screw together. But if you have a little help and follow the instructions, it shouldn't be a problem. With a stylish frame in matt, brushed dark aluminium, a slightly curved back and a solid square base, it looks more expensive than I expected. On a positive note, the swivelling foot that made the first The One I tested unique is now back.
If I touch an edge of the TV, it moves and then stays stable in the angle I have chosen.
Philips
Good basic quality
The largest 75- and 85-inch models apparently don't have the same stand but separate legs out to the sides instead. Image inputs and other connections on the back are next to one side. There's a loop at the back of the base to run cables through, so most cables can be arranged neatly. But there's otherwise no cable management at the back of the TV to route cables, so it's not perfect. The back also has Philips' typical Ambilight LEDs, providing an immersive room effect if you want it.
From the front, it's otherwise almost all picture surface, except for a thin strip at the bottom. The TV is based on an IPS panel with 4K resolution, 120Hz frame rate and a good colour gamut with good levels of colour accuracy. Philips itself claims that it covers 90% of the DCI P3 standard, which is more than enough for an intense and vivid picture experience.
But many competitors in the same price range are closer to 100%t. Not something you'll notice in everyday life, but if you're showing off photos or playing certain games, it might be noticeable if you know what you're looking for. The TV has a special mode for setting a Calman-calibrated picture profile, but it's not something I feel the need for.
Colour reproduction in the preset modes is well balanced right out of the box. At least to my eyes. You can choose between a personal mode that you can fine-tune, an extra intense mode that can be good if you have a bright room, and two movie modes. There are also separate game and PC modes for the console and connected computer.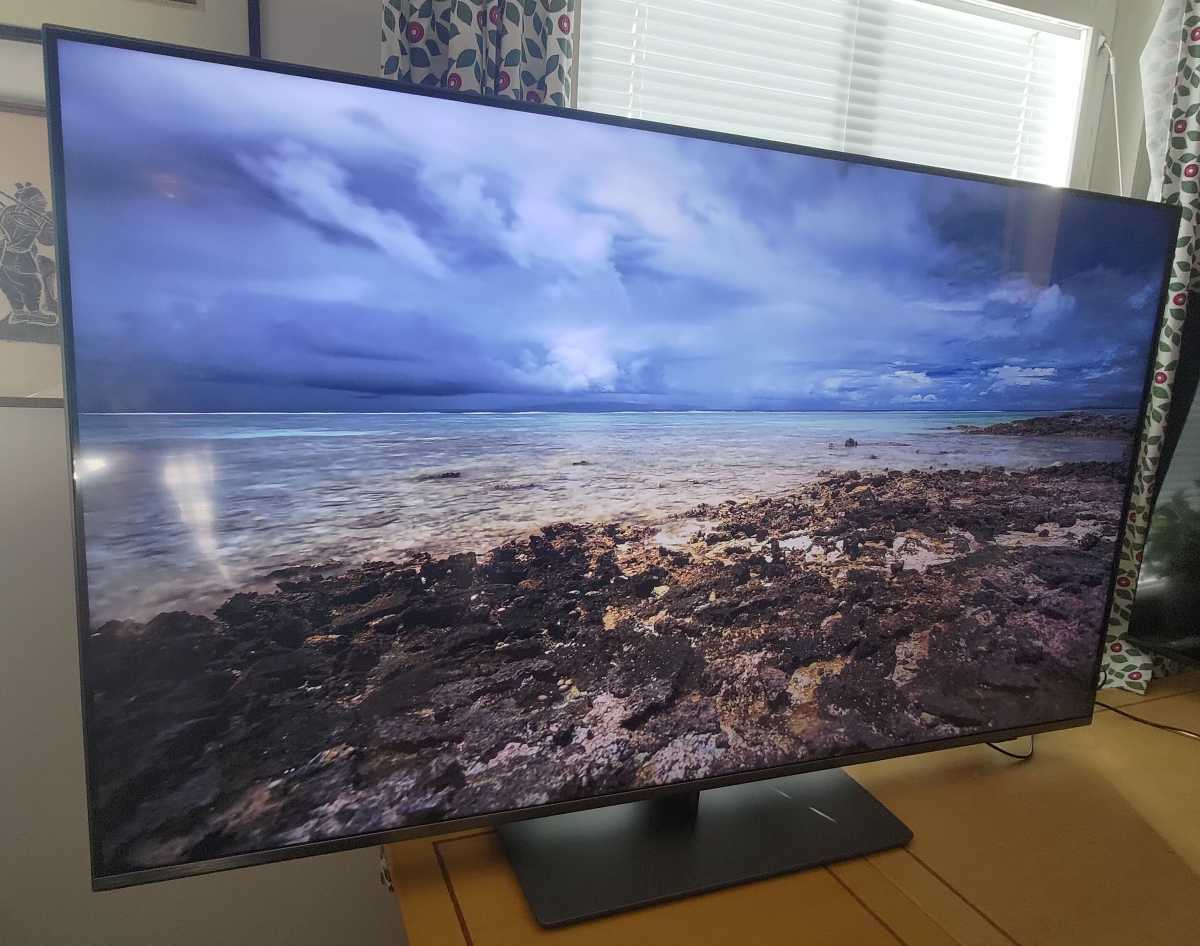 Mattias Inghe
Contrast is the weak spot
Everyone switches to HDR if they have the right picture source, and the TV supports most formats, including HDR10+ and Dolby Vision. It handles HDR10+ Adaptive, but not Dolby Vision IQ. The brightness is high enough as long as you don't have direct light coming in from a window, which can cause annoying reflections. Philips claims 500 nits' brightness, but it's not clear whether this refers to peak brightness or typical brightness across the entire screen. My measurements suggest that it's the former and that typical brightness is around 270 cd/m2. It gets a bit more intense with HDR, but how much is hard to say, maybe the stated 500.
Enough for a bright HDR experience anyway, albeit with some lack of deep blacks. With an IPS panel and without local dimming, the blacks in images are never as dark as I had hoped. On the other hand, IPS means that there are perfect viewing angles, with hardly any shift in the image at all, even when viewed from the side. So it's a great TV to gather around to watch a film or follow a match.
For the latter, you'll enjoy good motion handling so that details and fast balls are rarely lost in the picture. Upscaling from 720p or 1080p to 4K also looks mostly good, but some high-contrast details can cause flicker and artefacts. However, it disappears in home cinema mode when the image is limited to 60Hz or less and motion blur is muted for the right cinematic feel. Upscaling from SD resolution, 480p or less will be relatively blurry. But this may be preferable to the plasticky appearance of some other TVs.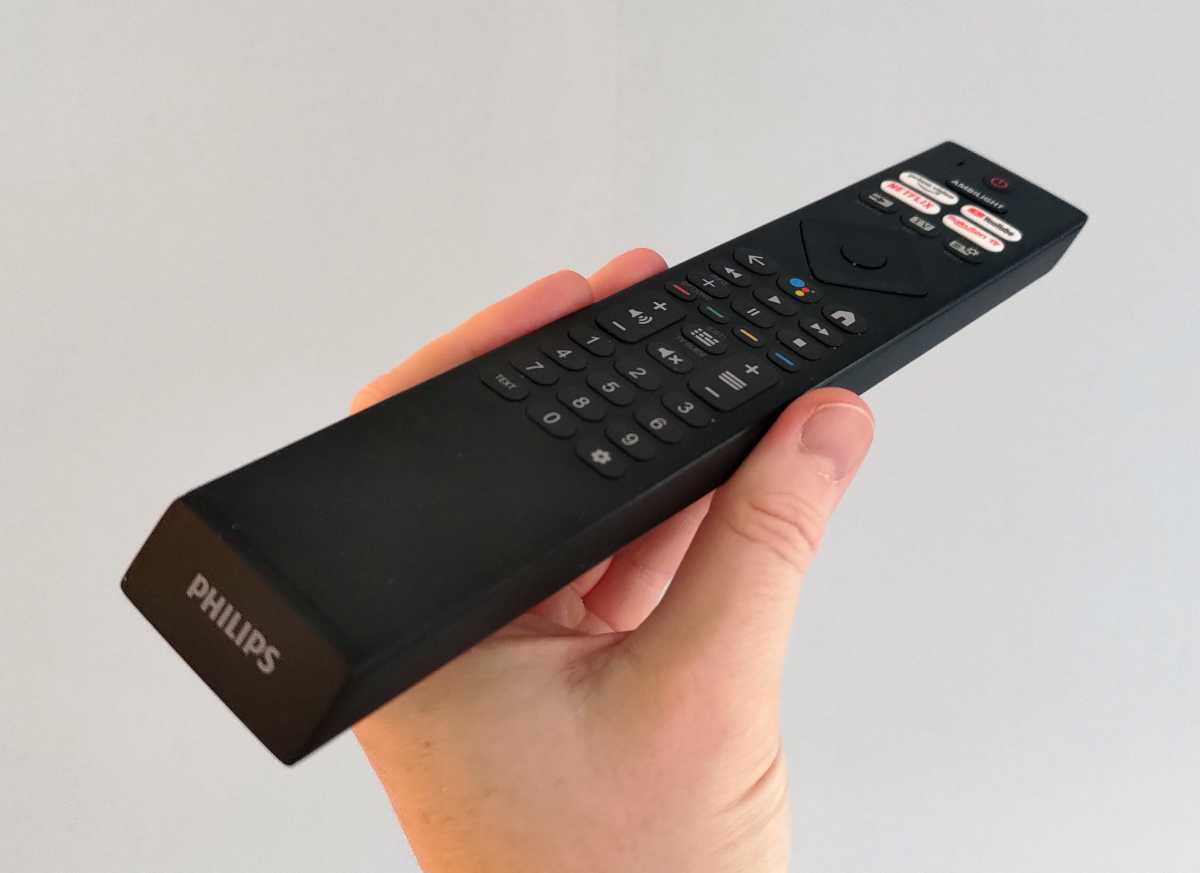 Mattias Inghe
A boost for sound
In last year's The One, I complained that Philips' usually convincing sound quality was lacking. Here, Philips has listened to the criticism and installed four 10-watt speakers, two for higher frequencies and two for bass. This is double what many competitors have and gives a nice weight and fullness to the sound. This means that at least I don't feel the need to use a soundbar instead. There isn't fantastic clarity in the treble for those who want to use the TV as a way to play music, but a film or a game clearly gets an adequate sound experience. This is appreciated.
However, it can be a little difficult to get the sound just right. I've complained about the lack of access to quick settings on Philips' Android-based TVs before, and now they strike again with a strange interface design. The One has a comprehensive quick menu of important settings, with its own button on the remote, but it only works for live TV. There's another menu on another button that works, but its menu is much more sparse. Only quick access to picture profiles. Audio and other things are frustratingly many clicks away.
Philips blames Google, but since other manufacturers have done a much better job with Google TV devices, I don't really buy it. Everything else with the interface and system is hard to complain about, with a fast processor under the hood everything flows well, apps load quickly and lag in navigation is rare.
Mattias Inghe
Fast for gaming
The One has all the essential features for connecting a game console. With its two HDMI 2.1 ports, you get fast image transfer, dynamic frame rate and bitrate, Freesync support, and automatic low latency. In game mode, the input lag can be as short as 11 milliseconds.
You can't talk about Philips TVs without mentioning Ambilight, their unique feature that synchronises the projected backlight on the wall behind the TV with the picture content. It adds an extra dimension to the TV and film experience, and now it also has a special Ambilight mode for gaming. I can't really say what that means, because gaming images already had the Ambilight effect before. Maybe it syncs faster, who knows. In any case, it is entirely a matter of taste if you want it activated. You can also dim the brightness on it, or switch it off completely.
Mattias Inghe
All in all, this is exactly the attractive and affordable TV that Philips wants The One to be. It covers many needs and works great for mixed use, but without being the best at any one thing. It's good enough for gaming, but there are better alternatives. It's good enough for film, but without that true cinematic perfection. And good enough as a general entertainment centre and living-room TV, but with nothing to make it stand out from the crowd, except for Ambilight and its rotating screen.
Specifications
Product name: Philips The One 2023
Panel type: IPS
Size: 43/50/55/65/75/85 inches
Model tested: 65PUS8808/12 (65 inches)
Resolution: 4K 2160p
Frame rate, max: 120Hz
Local dimming: No
Colour depth: 8 bits+frc
Colour gamut, stated: 90% of DCI-P3
Brightness: Claimed 500 cd/m2 peak
HDR: Hlg, hdr10, hdr10+, hdr10+ Adaptive, Dolby Vision
Operating system: Google TV
Audio: 4×10 Watt
Connections: 2pcs HDMI 2.1 (1 with eARC), 2x HDMI 2.0, 2x USB, LAN, optical audio out, headphone
Wireless: Wi-Fi 5, Bluetooth 5.0
Dimensions(with stand): 1451 x 905 x 281 mm
Weight (with stand): 27.3 kg
Energy class: E
Wall mount: Vesa, 200×300 mm
This article first appeared on M3.se