At a glance
Expert's Rating
Pros
Attractive design 
Great battery life 
Solid performance

Decent 90Hz display
Cons
Some disappointing cameras 
Very slow charging
Annoying extra apps
Our Verdict
Taken in isolation, the Galaxy A14 5G is a very good budget smartphone. But unless 5G is a top priority, there's no reason to buy it over the cheaper 4G version, which also has more versatile cameras.
Price When Reviewed
$199.99
Best Prices Today: Samsung Galaxy A14 5G
$199.99
Unlike its main rivals Apple and Google, Samsung isn't afraid to release lots of new phones every year. 
There are dozens of Galaxy handsets to choose from, most of which cost far less than the flagship S series or foldable Z series. Its A series is one of the most popular, spanning the budget and mid-range markets.  
However, that doesn't mean it's easy to decide which model to go for, with the Galaxy A14 5G in a particularly confusing position. It costs just £219/$199.99 at full price, but the non-5G version is even more affordable at £179/$150. 
And while the performance and display are both superior, the A14 5G's cameras are actually a downgrade for most people. However, that doesn't mean you should rule it out, especially when compared to non-Samsung phones. 
Design & Build
Practical plastic build
Attractive, grippy back
Side-mounted fingerprint scanner
The Galaxy A14 5G looks a lot like most other A series phones from 2023, including the Galaxy A34 5G and Galaxy 54 5G. That reflects well on this more affordable model, which looks more expensive than its materials suggest. 
Samsung has covered the back and sides of the phone with plastic rather than the more premium metal or glass. But this was a wise move, as it means the A14 5G is lighter than you might expect from a 6.6-inch handset at just 205g. 
Anyron Copeman / Foundry
The trade-off here is that it feels cheap, but I actually really like the textured back of the phone. The A54 5G's iridescent finish shimmers attractively as it catches the light, something that's particularly noticeable on the green model I tested. If you'd prefer a more subtle look, go for the grey or black versions instead. 
But regardless of the colour you choose, you won't need to apply a case. The rear does a good job of avoiding fingerprint smudges and other dirt, while adding plenty of extra grip in the process. There's no need to worry about the phone falling out of your pocket or off a table. 
Of course, that means you'll have to leave the display exposed. But the tough Gorilla Glass 5 has been tested to survive drops of up to 1.2m (onto a hard surface) and be very resistant to scratches. There were no signs of damage during its 9 days as my main phone, though I can't verify long-term durability. 
One thing you will have to watch out for is water and dust. There's no IP rating of any description here, though you should still be fine to use it during a light rain shower or at the beach. 
The arrangement of the cameras on the back of the phone is clearly inspired by Samsung's flagships, with three individual lenses rather than a single module. Each lens sits almost flush with the back of the phone, meaning you can comfortably use it while on a flat surface. 
On the plastic-coated sides of the phone, you'll find a couple of other notable features. The first is the power button on the right, which doubles as a fingerprint scanner. It's fast, reliable and very impressive – I'm glad Samsung didn't try to include an under-display sensor, which can be temperamental.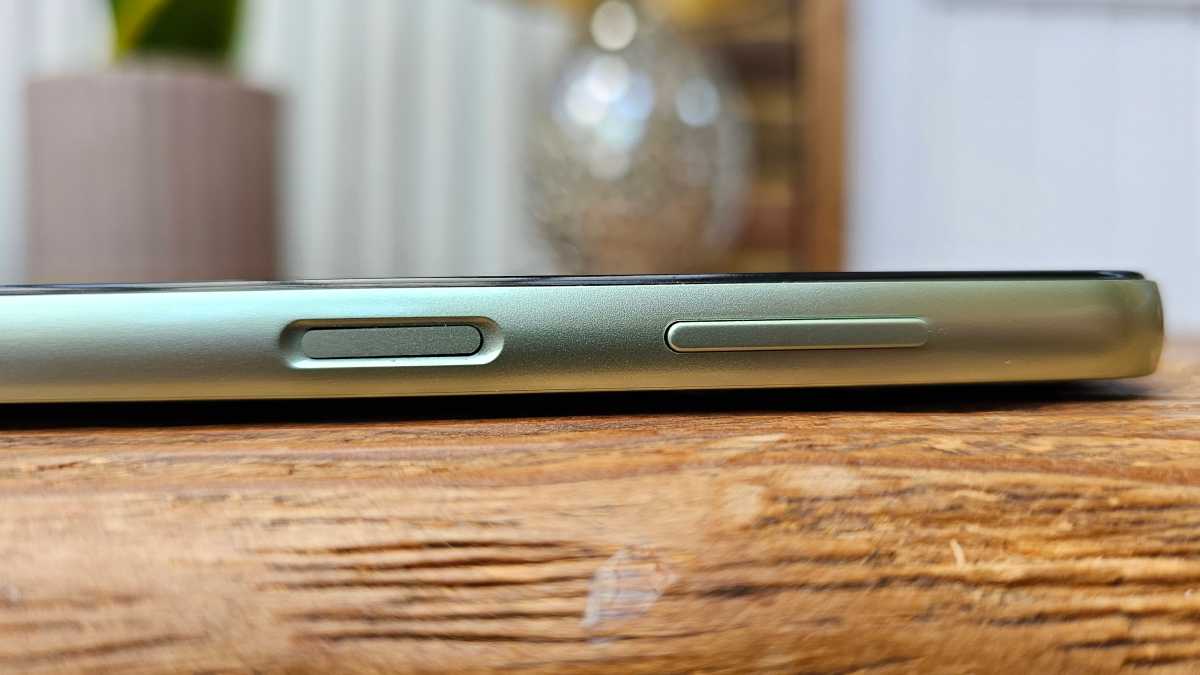 Anyron Copeman / Foundry
Then there's the 3.5mm audio jack, something that's increasingly rare on modern phones. You probably own a pair of Bluetooth headphones at this point, but it's still really nice to have the wired option. 
It's also worth mentioning the vibration motor, which can be used for calls and notifications but also while typing or moving between. The subtle clipped feedback you get is impressively realistic, albeit not quite on the level of the S23 Ultra. 
Screen & Speakers
Decent 6.6-inch Full HD LCD display
90Hz refresh rate
Underwhelming single speaker
The Galaxy A14 5G features a 6.6-inch, Full HD+ (1080×2408) LCD display. Those specs are identical to the 4G model, but there's one key difference: a 90Hz refresh rate. 
Essentially, this refers to how many times the screen can refresh to display a new image each second. And you do notice a difference compared to the standard 60Hz – everything feels that bit more fluid and responsive. It's most noticeable while scrolling through menus and social media apps, but the difference is also apparent while gaming.
Anyron Copeman / Foundry
The refresh rate will automatically adjust, but it's not an LTPO panel so can't go all the way down to 1Hz to conserve battery life. Instead, it simply switches between 60- and 90Hz depending on what you're doing. Still, it's nice to see it on such an affordable phone. 
However, this isn't enough to buy the A14 5G over the regular A14 on its own. Both offer the same core viewing experience, you can expect an impressive level of detail and decent colour accuracy from the display. But despite a measured 520 nits of max brightness, visibility in bright outdoor environments is still poor. 
The bezel around the display is chunky by modern standards, and there's an annoyingly large chin. It makes the phone look a little dated, though this isn't unusual for a budget handset. I just wish Samsung had made the top bezel a bit bigger rather than opting for a teardrop-style notch.
Audio quality clearly isn't a priority for Samsung on the A14 5G, and it shows. There's just a single downward-firing speaker, and it doesn't even make use of the earpiece for a stereo setup. 
As you might expect, the resultant sound isn't good. It's plenty clear enough, but often sounds tinny and bass is pretty much non-existent. If sound quality is important to you, connect headphones or buy a different phone.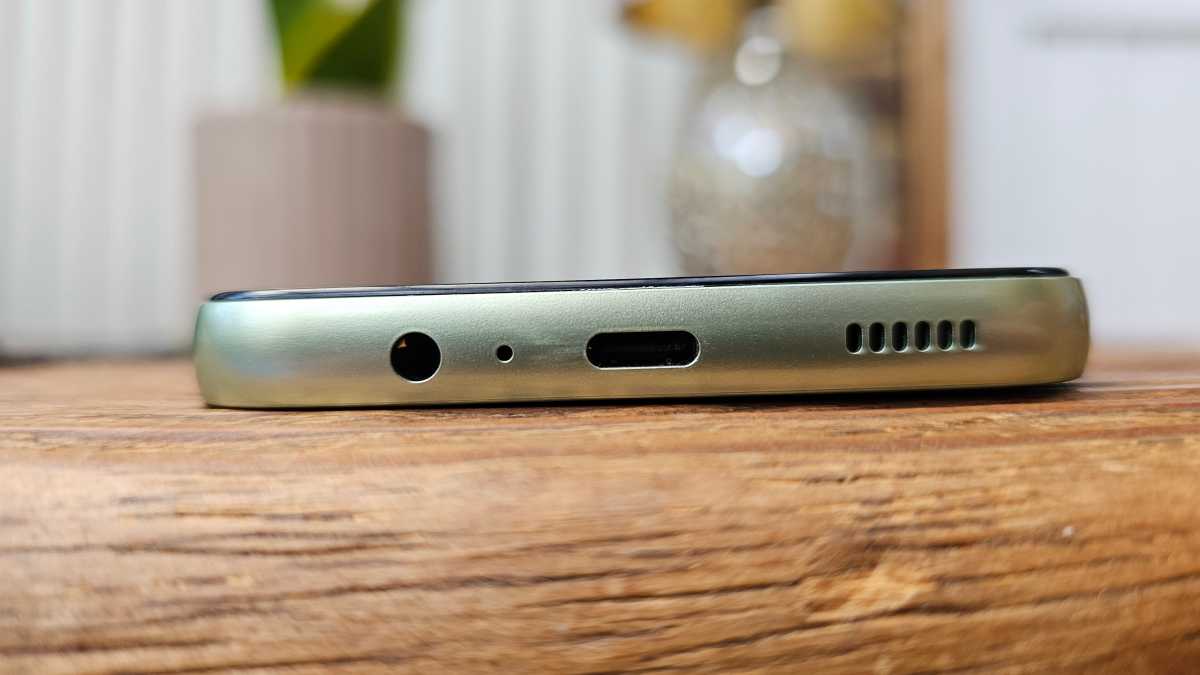 Anyron Copeman / Foundry
Specs & Performance
MediaTek Dimensity 700 and 4GB RAM
Decent everyday performance
Only 64GB storage, but microSD expandable
The chipset powering the Galaxy A14 5G varies depending on where you're based. In the UK and US, it's powered by MediaTek's Dimensity 700, but Samsung's own Exynos 1330 is used in some markets. 
However, Samsung has combined this 2020 MediaTek chip (it was originally designed for mid-range phones) with just 4GB of RAM. Performance is fine, but only if you just use your phone for the basics and are willing to be patient.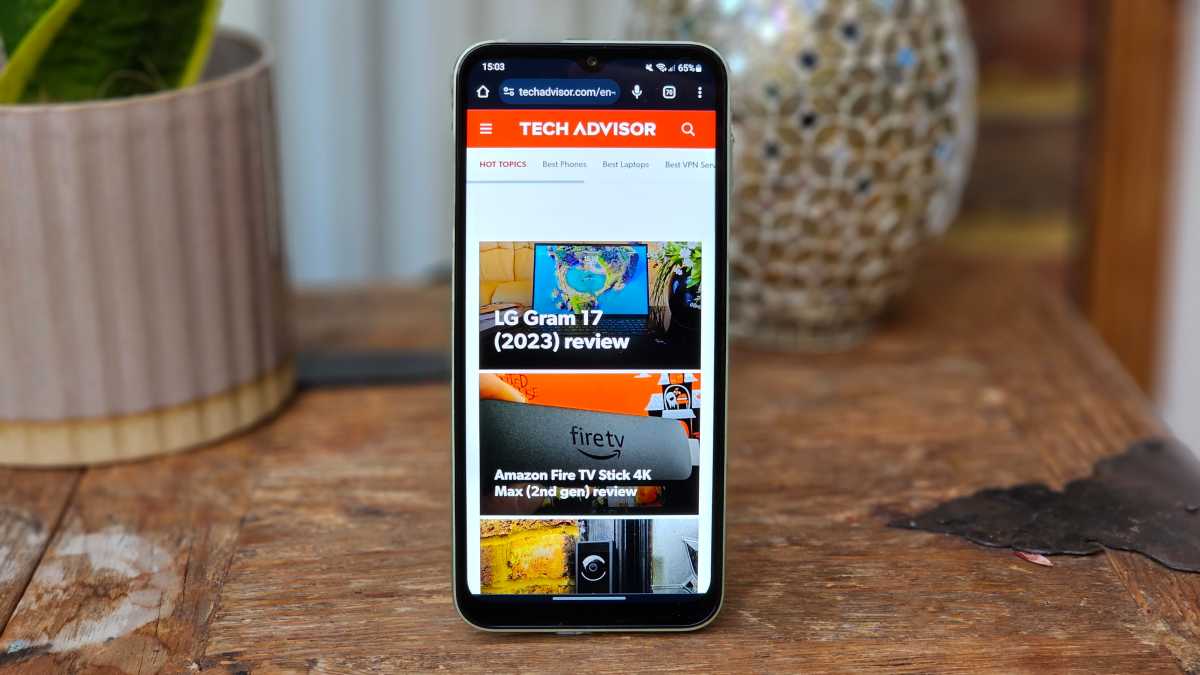 Anyron Copeman / Foundry
For everyday tasks such as web browsing, messaging, taking photos, listening to music and watching videos, the A14 5G is well-equipped. App launches take a few seconds longer than more powerful phones and there's sometimes some stuttering while switching between apps, but that isn't unusual at this price. 
It's also a step up compared to the MediaTek Helio G80 powering the 4G model, especially when combined with that 90Hz refresh rate. However, if you want a device for smooth multitasking or gaming, I'd look elsewhere.  
Samsung Galaxy A14 5G benchmarks
In the UK and US, there's also only one storage option: 64GB. Given system files that can't be uninstalled take up around 17GB, that doesn't leave you much room to work with.  
You'll probably need to add a microSD card, which can be used to expand storage up to 1TB. Impressively, you can add one and still have space for 2 SIM cards. 
But 5G is the main reason to buy the A14 5G over the 4G model. And with coverage still patchy (at least in the UK and US) at the time of writing, it's worth making sure that you'll actually benefit from a 5G phone.  
Wi-Fi 5 and Bluetooth 5.2 aren't the latest connectivity standards, but they'll serve most people well. And NFC means you can make mobile payments using Google Pay. 
Cameras & Video
Decent 50Mp rear camera
Poor 2Mp macro and depth sensors
Impressive 13Mp selfie lens
Samsung makes some of the best camera phones you can buy, but there's little evidence of that on the Galaxy A14 5G. It has three rear lenses, but you'll be almost totally reliant on the 50Mp main sensor.
And it's a familiar story for a budget phone. In good lighting conditions, you can get some very nice shots. Exposure and dynamic range are decent, and there's an impressive amount of detail.  
Shots have the highly saturated, contrasty look we've come to expect from Samsung phones. It means they aren't particularly realistic, but colours really pop.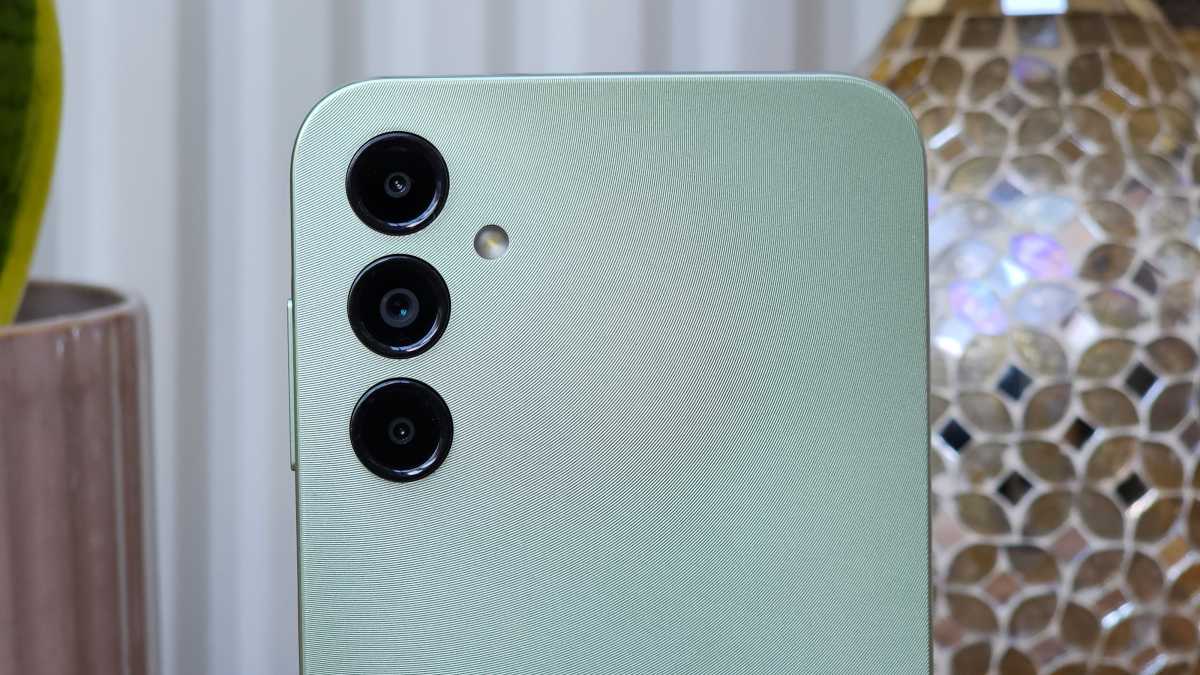 Anyron Copeman / Foundry
That's particularly apparent in landscape shots, where the different colours of autumn leaves helped the woodland scene come alive. I also got some nice shots of architecture, with both the subject and background generally well exposed. 
However, in low light things are much more of a struggle. The night mode prolongs exposure for six seconds to let in as much light as possible, and it certainly improves the end result. But it tends to over-sharpen some elements of the image, while other areas look artificially bright.
A separate 2Mp depth sensor is designed to improve portrait-style shots, but they're still not very impressive. Edge detection is the main issue, though it is nice to be able to adjust the amount of background blur after the photo has been taken. 
I can't understand why Samsung removed the regular A14's 5Mp ultrawide to make room for it. There were various moments where I wished I could take a wide shot, despite a drop-off in quality compared to the main lens. 
There's also no telephoto camera, meaning you're totally reliant on digital zoom. This goes up to 10x, but I wouldn't recommend any more than 2x if you want to preserve most key details. 
And I wouldn't bother using the 2Mp macro lens – it's almost impossible to get a great close-up shot without washed-out colours or lots of noise. 
However, the 13Mp front-facing camera is much better. Selfies deliver an impressive amount of detail, and the portrait mode here actually does a good job of separating my face from the background. There's even the option to zoom out slightly for a group shot. 
As you can see from my camera samples, the quality of photos varies significantly. 
The A14 5G can capture video up to 1080p at 30fps – the default setting. But footage is often blurry and grainy, while a lack of OIS (optical image stabilisation) means it struggles with any significant movement.
Battery Life & Charging
5000mAh battery
Lasts up to two days on a charge
Disappointing 15W charging
Battery life is one of the Galaxy A14 5G's key strengths. It has a 5000mAh cell that's identical to the regular A14, and in line with many budget phones. 
That's enough for it to comfortably last a full day, even with lots of GPS, high brightness and mobile data. On lighter days, it's possible to get a full two days of battery life, which is impressive for any phone.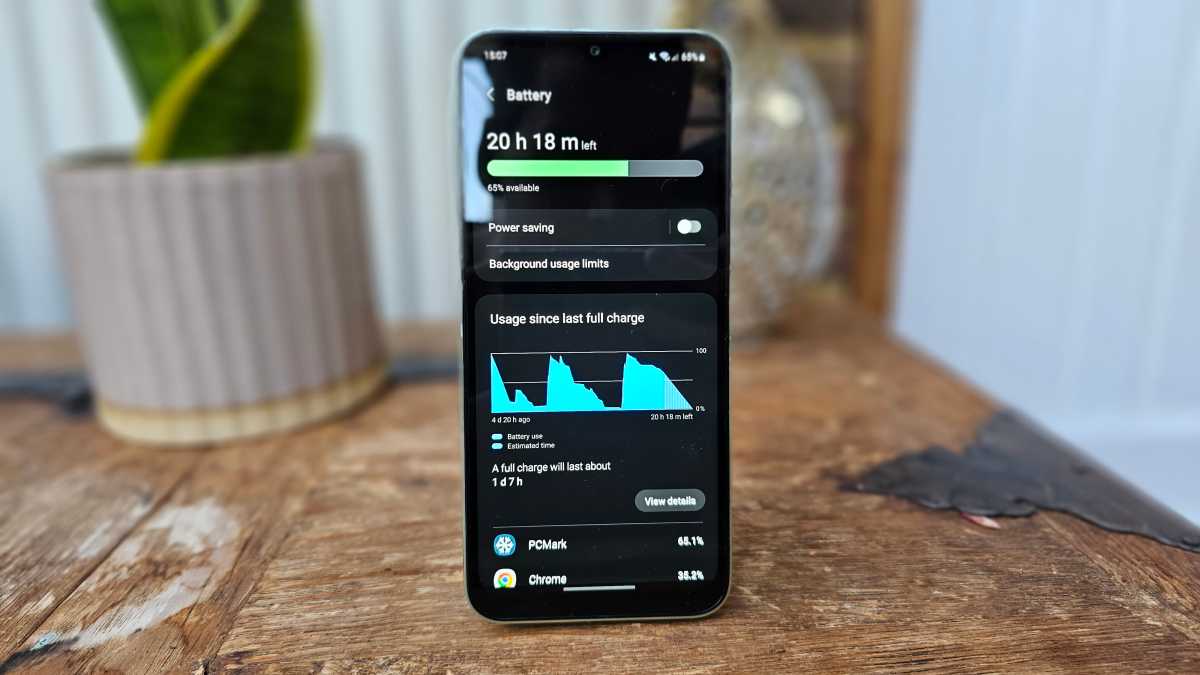 Anyron Copeman / Foundry
This is reflected in PCMark's battery test, which simulates real-world tasks at a fairly typical 200 nits of brightness. The A14 5G's result of 14 hours and 11 minutes is well above average. 
Interestingly, it's also higher than the regular A14, despite having a more powerful processor and 90Hz screen. But battery life is very good on both phones. 
Sadly, it's a different story when it comes to charging. The A14 5G can only charge at 15W, and there's no adaptor included in the box.  
Using one I had at home, it reached just 15% in 15 minutes and 30% by the half-hour mark. A full charge took well over 2 hours, which is disappointing. 
There's no wireless charging, but that's to be expected from a budget phone. 
Software & Updates
One UI 5.1 over Android 13
Intuitive software, but too many extra apps
Four years of security updates
Out of the box, the A14 5G runs Samsung's One UI 5.1 over Android 13. While Android 14 is now available, there's no word on when it'll be available at the time of writing. 
If you haven't used it before, Samsung's take on Android is quite different from the experience on Pixel phones. All Google apps are still here, but Samsung has created its own versions of many everyday apps.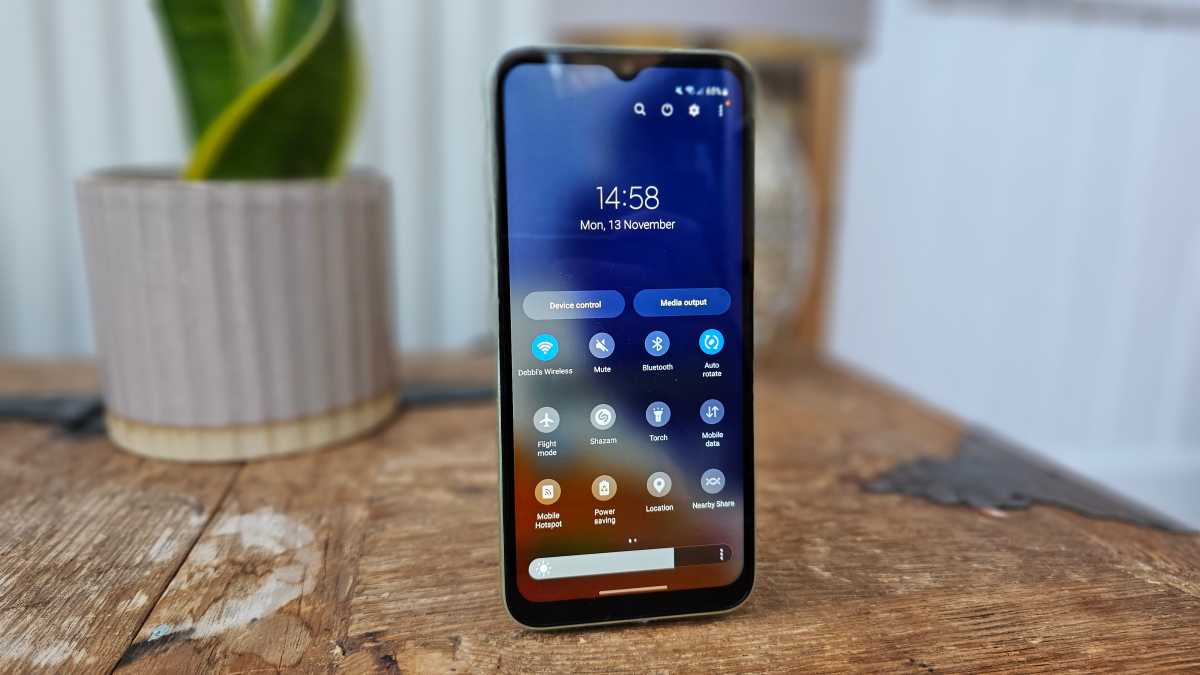 Anyron Copeman / Foundry
This includes Phone, Messages, Camera, Files, Clock, Gallery, Notes, Contacts and a web browser. You may prefer some of these to the Google equivalents, but it's frustrating to have both pre-installed on your phone. 
If you're not careful during setup, you'll also end up with a bunch of games, plus social media apps such as Facebook and TikTok. Everything can be removed later – I just wish it wasn't necessary. 
However, once you've got everything set up the way you like it, One UI is very intuitive and easy to use. I actually prefer the quick settings/notification panel to Google's version and the Settings menu feels less cluttered.  
Samsung's own apps also include all the key navigation buttons at the bottom of the screen, making it possible to use the phone one-handed. 
While Samsung flagships get four years of OS updates and five years of security patches, that's not the case on the A14 5G. It's limited to two and four years respectively, meaning Android 15 will be its last major version and support will end in 2026. 
Price & Availability 
If you're looking to buy the Galaxy A14 5G outright, it's relatively affordable.  
At full price, you'll pay £219/$199.99, with the phone available from Samsung UK, Samsung US and several third-party retailers. 
But the non-5G Galaxy A14 is even cheaper, costing £179/$150. Other budget phones to consider include the Motorola Moto G84 5G (£249.99), Xiaomi Redmi Note 12 5G (£279), though neither are available in the US.
On contract, here are the best deals in the UK:
And in the US, here's where to look:
Should you buy the Samsung Galaxy A14 5G?
If no other Galaxy A14 phone existed, this 5G model would be a very good choice.  
Alongside the latest mobile connectivity, you're also getting excellent battery life and slick One UI software – all within a sleek, modern phone.  
But aside from 5G support, the same can be said for the cheaper regular Galaxy A14. Strangely, it also has more versatile cameras, though neither are worth writing home about.
The A14 5G offers slightly better day-to-day performance and a 90Hz screen refresh rate, but that's pretty much it. If none of those features are top priorities for you, you're better off saving some money. 
Specs
167 x 78 x 9.1mm 
205g 
6.6-inch, 1080×2408 LCD display, 90Hz 
MediaTek Dimensity 700 
4GB RAM 
64GB storage (expandable up to 1TB via microSD) 
50Mp, f/1.8 main rear camera 
2Mp, f/2.4 macro camera 
2Mp, f/2.4 depth sensor 
13Mp, f/2.0 selfie camera 
Up to 1080p video at 30fps (front and back) 
5000mAh  
4805mAh battery 
15W wired charging 
Side-mounted fingerprint scanner 
Wi-Fi 5 
Bluetooth 5.2 
USB-C 
3.5mm audio jack 
NFC 
5G 
Colours: Silver, Black or Green